choc-nut and chia seed slice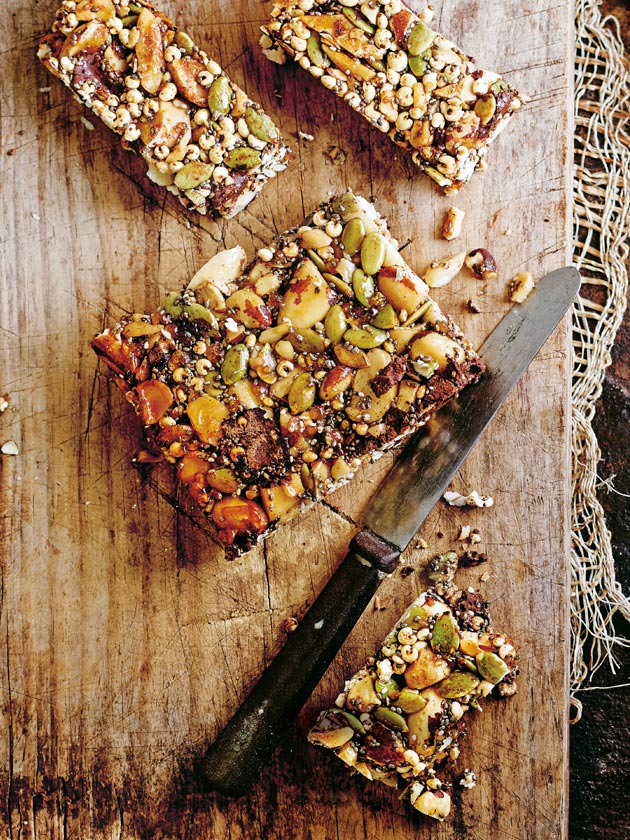 2 cups (320g) brazil nuts,
roughly chopped

1 cup puffed millet+

½ cup (80g) pepitas (pumpkin seeds)

¼ cup (50g) black chia seeds

50g 70% dark chocolate,
roughly chopped

¼ cup (90g) honey

2 teaspoons vanilla bean paste

Preheat oven to 160°C (325°F). Place the nuts, millet, pepitas, chia, chocolate, honey and vanilla in a large bowl and mix well to combine.
Press the mixture into a 20cm square cake tin lined with non-stick baking paper. Cook for 30–35 minutes or until golden.
Refrigerate until completely cooled. Slice into 2.5cm x 5cm logs to serve. Makes 32.

+ Find puffed millet in health food stores.
Cook's tip
+This slice will keep refrigerated in an airtight container for up to one week.
donna hay team
Hi Sally, instead of puffed millet, we suggest you use puffed brown rice from the supermarket health food aisle. Enjoy!
Sally Baikie
Is there a substitute for puffed millet?