spiced shaker pancake mix
with vanilla-maple syrup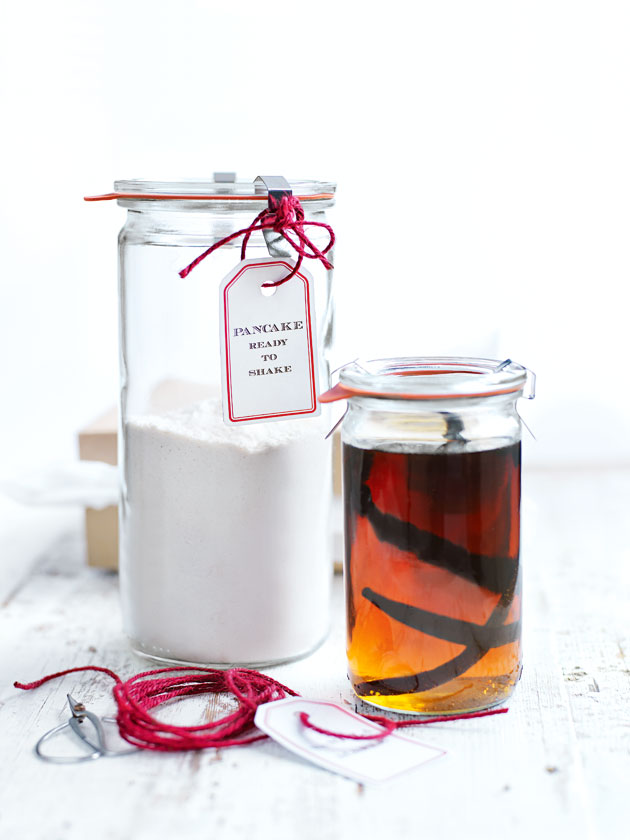 ​TO ASSEMBLE YOUR MIX:
¼ cup (55g) caster (superfine) sugar
1 cup (150g) plain (all-purpose) flour
1½ teaspoons baking powder
½ teaspoon bicarbonate of (baking) soda
1 teaspoon ground cinnamon in a large bowl
1.25-litre-capacity jar
Add 1 lightly beaten egg, ¾ cup (180ml) milk and 1 teaspoon vanilla bean paste to the jar and shake until smooth and combined. Heat a non-stick frying pan over medium heat and brush with melted butter.
Pour 2 tablespoons of the batter into the pan, in batches, and cook for 2 minutes each side or until golden and cooked through.
To make the vanilla-maple syrup, place 1 split vanilla bean and 1 cup (250ml) maple syrup in a 1-cup-capacity (250ml) jar. Serve pancakes with syrup. Makes 8
Photography: Chris Court
There are no comments for this entry yet.