caramel cookies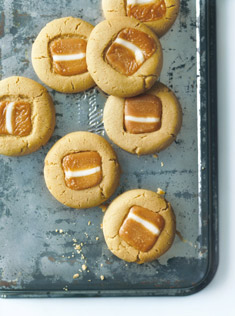 60g unsalted butter

⅓ cup (115g) golden syrup

⅓ cup (60g) brown sugar

1½ cup (225g) self-raising (self-rising) flour, sifted

8 soft caramel candies, halved

Preheat oven to 180ºC. Place the butter, golden syrup and sugar in a saucepan over low heat and stir until the sugar is dissolved. Set aside to cool. Add the flour to the butter mixture and mix until a smooth dough forms.
Roll tablespoonfuls into balls and place on baking trays lined with non-stick baking paper. Press to flatten and top each with half a caramel candy. Bake for 10–12 minutes or until golden. Allow to cool on the trays. Makes 16.

Jacintha Brown
So easy and they turn out exactly like the recipe picture. Compliments all around they are so delicious.
Belinda Planer
These turned out great! They taste amazing!