choc-coconut bites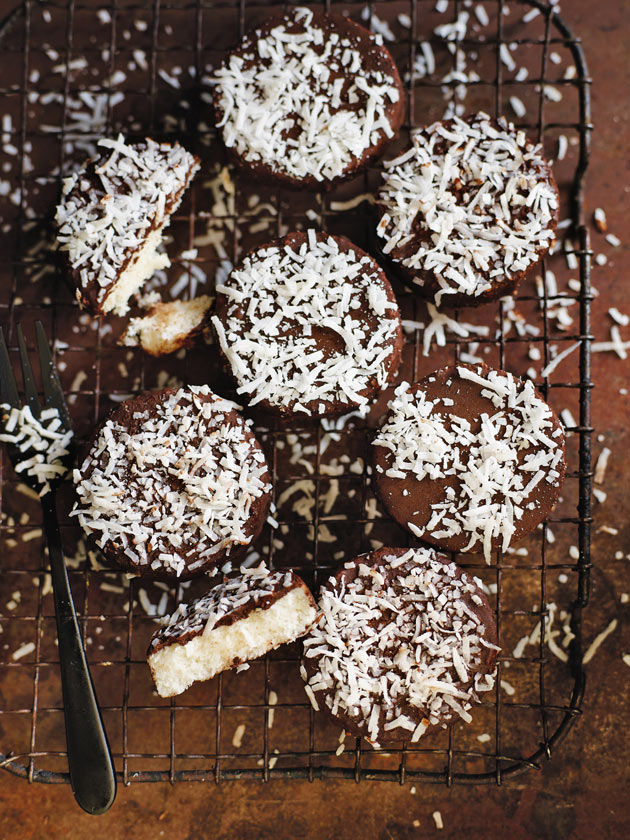 shredded coconut, for sprinkling

coconut rounds
3 cups (240g) desiccated coconut

¼ cup (60ml) coconut water

½ cup (125g) coconut oil, melted

½ cup (125ml) rice malt syrup

1 teaspoon vanilla bean paste
chocolate coating
⅓ cup (80g) coconut oil, melted

¼ cup (90g) rice malt syrup

¼ cup (25g) raw cacao powder, sifted

To make the coconut rounds, place the coconut, coconut water, oil, rice malt syrup and vanilla in a bowl and mix well to combine. Press into a 20cm x 20cm lightly greased baking tin lined with non-stick baking paper and refrigerate for 30 minutes or until firm.

To make the chocolate coating, place the oil and rice malt syrup in a heatproof bowl over a saucepan of simmering water and stir until melted and combined. Add the cacao and whisk until smooth. Remove from heat.

Remove the coconut mixture from the fridge and, using a 6cm round cookie cutter, cut into 9 rounds. Using 2 forks, roll each round in the chocolate coating and place on a greased wire rack over a baking tray lined with non-stick baking paper.
Sprinkle with the shredded coconut and refrigerate for 10 minutes or until set. Serve chilled. Makes 9.

Elle Tee
Just wondering if DH recipes are created/written using volumes and then the weights provided afterwards alongside. I ask because some of the weights don't seem to tally up with the volumes (at least in this one), and I'm wondering which system to use for best results. I really like to weigh everything when I bake but i'm hesitating with this recipe as it's not clear what was intended. Also, why is the rice malt syrup given in ML in one part of the recipe and grams in the other? The 90g / 1/4 cup amount of rice syrup in the coating seems high (as far as I know a cup of rice malt weighs about 300g so a 1/4 cup is more like 75g? Sorry to sound so picky and critical—it's coming from a constructive place. I have bought many Donna Hay cookbooks and mags over the years and am always blown away by the magnitude of truly delicious recipes and new ideas. thanks!