brandy custard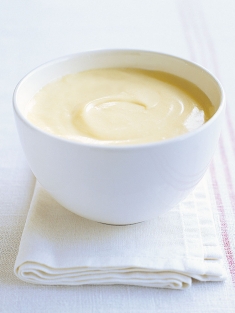 6 egg yolks

¼ cup (55g) caster (superfine) sugar

2 tablespoons cornflour (cornstarch)

⅔ cup (80ml) milk

3 cups (750ml) pouring (single) cream

¼ cup (60ml) brandy

1 teaspoon vanilla extract

Place egg yolks and sugar in a bowl and mix to combine.
Place cornflour in a bowl, add milk and mix to a smooth paste.
Place cream in a saucepan over medium–low heat. Whisk in egg and cornflour mixtures, brandy and vanilla. Stir for 4 minutes or until custard is thickened. Serve warm with Christmas pudding. Serves 8.

There are no comments for this entry yet.