caramel three-milk cake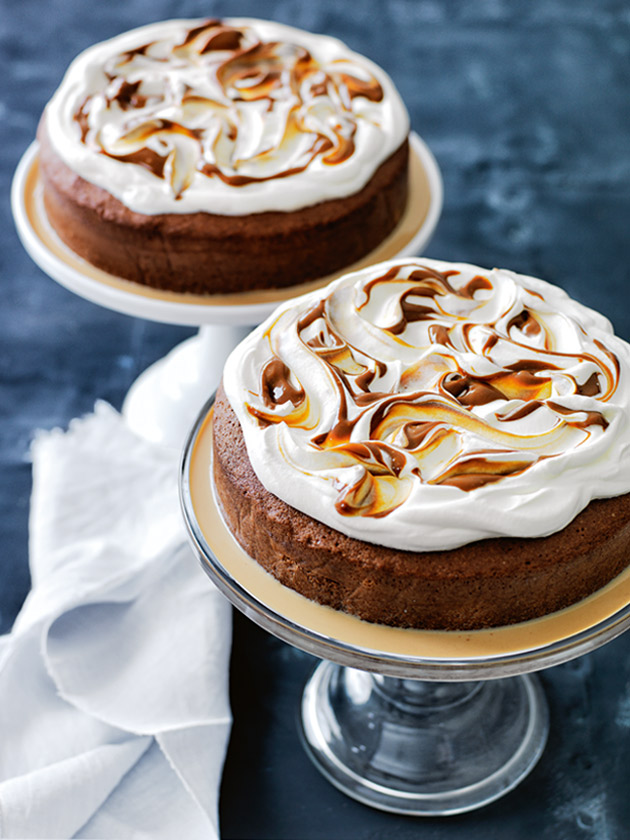 180g unsalted butter, softened

1 cup (220g) caster (superfine) sugar

2 tablespoons vanilla extract

5 eggs

1½ cups (225g) self-raising (self-rising) flour, sifted

2 cups (500ml) milk

1 cup (250ml) sweetened condensed milk

1 cup (250ml) buttermilk

2 cups (500ml) single (pouring) cream

⅔ cup (240g) dulce de leche or thick store-bought caramel

Preheat oven to 160ºC (325ºF). Place the butter, sugar and ½ tablespoon of the vanilla in an electric mixer and beat for 8–10 minutes or until pale and creamy, scrape down the sides of the bowl. Add the eggs, one at a time, beating well after each addition. Gradually add the flour and beat on low until just combined.
Spoon the mixture into a lightly greased 22cm springform tin lined with non-stick baking paper and bake for 45–50 minutes or until cooked when tested with a skewer. Allow to cool completely in the tin. Using a skewer, make holes all over the top of the cake.
Place the milks, ⅓ cup (120g) of the dulce de leche and remaining vanilla in a large jug and whisk well to combine. Placing cake tin on a tray to catch any leaks, gradually pour the milk mixture over the cake. Refrigerate for 2–3 hours or until the milk mixture is absorbed. Remove cake from tin and place on a plate.
Place the cream in a bowl and whisk until soft peaks form. Top the cake with the cream and drizzle with remaining caramel to serve. Serves 6–8.

donna hay team
Hi Priyanka! Unfortunately in this instance it will be a test and trail style of cooking. Good luck!
PRIYANKA PURI
Hi if I were to use a 10 inch cake tin…how much does the quantity of ingredients need to increase? im assuming that its about 15% larger so 15% proportionate increase in ingredients should work?
Would hugely appreciate a quick update as I need to bake it tomorrow for a special occasion…
Cuzina 01
A very moist cake with 3 milks. Dinner guests and family were very impressed with taste and texture. It definitely had the 'wow factor.!