cloudy apple sorbet
with toffee apple slices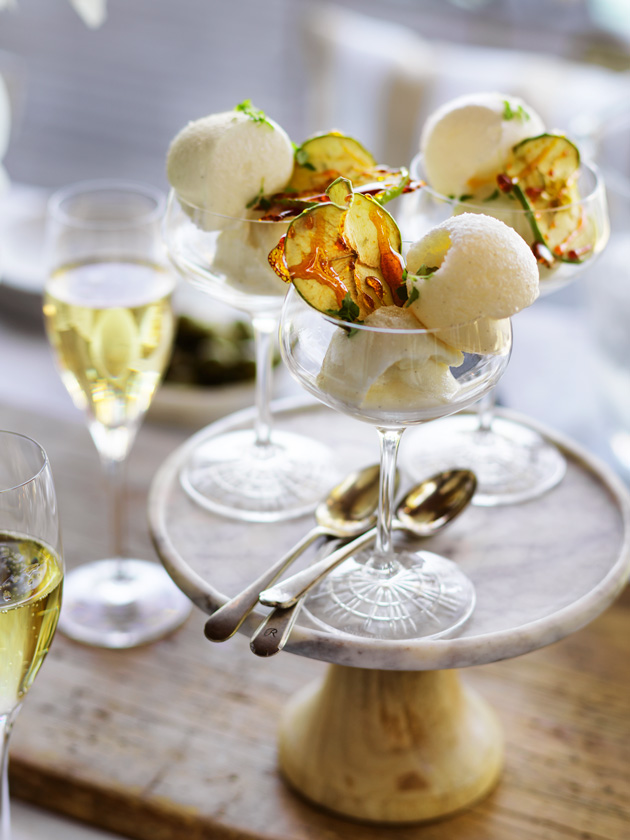 1 cup (250ml) water

¾ cup (185g) caster (superfine) sugar

1 vanilla bean, split and seeds scraped

4 cups (1 litre) cloudy apple juice

¼ cup (60ml) lemon juice

2 eggwhites

micro (baby) lemon balm, to serve

toffee apple slices
1 cup (220g) caster (superfine) sugar

⅓ cup (80ml) water

16 dried apple slices
Place the water, sugar and vanilla bean and seeds in a medium saucepan over high heat, stirring constantly, until the sugar is dissolved. Remove from heat and discard the vanilla bean. Add the apple juice and lemon juice and stir to combine. Pour the juice mixture into a 20cm x 30cm slice tin and freeze for 8 hours, or overnight, until frozen.

Cut the sorbet into squares and place half in a food processor. Add 1 eggwhite and process until smooth. Repeat with the remaining sorbet and eggwhite and return to the freezer for 1 hour or until ready to serve.

While the sorbet is freezing, make the toffee apple slices. Place the sugar and water in a small saucepan over low heat, stirring constantly, until sugar is completely dissolved. Increase heat to high and cook, without stirring and brushing the edges of the saucepan with a wet pastry brush, for 8 minutes or until light golden brown. Remove from the heat and set aside for 3–4 minutes or until dark golden brown. Place the apple on large baking trays lined with non-stick baking paper. Carefully drizzle the apple with the toffee and set aside to cool completely.

Divide the sorbet between glasses and top with the apple and lemon balm to serve. Serves 8.

Wine note: the delicate fruity flavour of this dessert pairs perfectly with the complexity and depth of Cloudy Bay Pelorus, NV.

There are no comments for this entry yet.