garden butterfly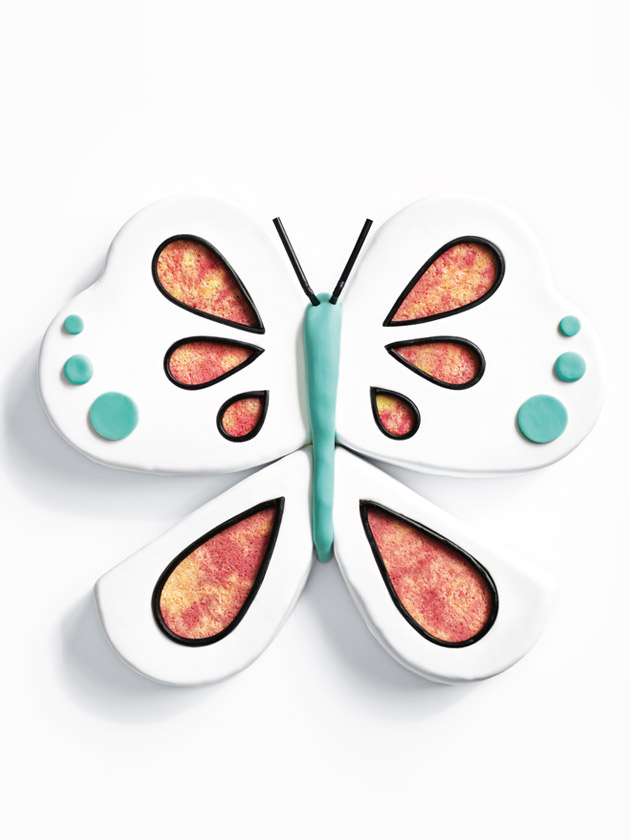 7½ (1.125kg) plain (all-purpose) flour, sifted

4½ teaspoons baking powder

1.155kg caster (superfine) sugar

12 eggs

5¼ (1.125 litres) milk

3 teaspoons vanilla extract

750g butter, melted

pink food colouring

vanilla butter icing

125g butter, softened

1 cup (160g) icing (confectioner's) sugar, sifted

½ teaspoon vanilla extract

to decorate
1.7kg store-bought ready-to-roll white fondant icing

licorice straps

blue food colouring

2 black bendy drinking straws, trimmed

wing templates

To make, preheat oven to 160°C (325°F). Place the flour, baking powder, sugar, eggs, milk and vanilla in a large bowl and, using a large whisk, mix to combine. Gradually add the butter and whisk until well combined. Place ⅓ of the cake mixture into a separate bowl. Add a few drops of pink food colouring and stir to combine.
Drop alternate spoonfuls of the pink and plain cake mixtures into 3 x 22cm lightly greased heart-shaped cake tins+ lined with non-stick baking paper. Use a butter knife to make swirls through the batter and bake for 1 hour 30 minutes – 1 hour 35 minutes or until cooked when tested with a skewer. Cool cakes in tins for 10 minutes before turning out onto wire racks to cool completely.
To make the vanilla butter icing, place the butter in an electric mixer and beat for 6–8 minutes or until pale and creamy. Add the icing sugar and vanilla and beat for a further 10–15 minutes or until light and fluffy.

To assemble, trim the tops of the cakes and discard. Cut one heart in half. To create the butterfly shape, place the 2 whole hearts at the top of a cake board and place the halved pieces, pointing out, down the bottom. Ice the sides of the cakes only.
Knead 1.5kg of the fondant on a clean surface until pliable. Divide into 3 portions and roll each piece out between 2 sheets of non-stick baking paper to 3mm-thick. Use the baking paper to lift the icing over the cakes. Remove the baking paper and drape the icing over the cake, smoothing out creases. Trim the excess and discard. Using wing templates cut out the fondant on the wings to show the cake underneath. Line the cut outs with the liquorice strap.
Knead the remaining fondant on a clean surface until pliable. Add a drop of blue food colouring to the fondant, adding more until desired colour is achieved. Knead until colour is even and icing is smooth. Roll out between 2 sheets of non-stick baking paper to 3mm-thick. Using cookie cutters, cut out 2 x 4cm, 2 x 2cm and 2 x 1.5cm circles.
Lightly brush one side with water and press onto the cake. Roll the remaining blue fondant into a long body shape and place down the centre of the butterfly. Press in the two straws to make the antennae. Serves 12–14.

There are no comments for this entry yet.