limoncello bombe alaska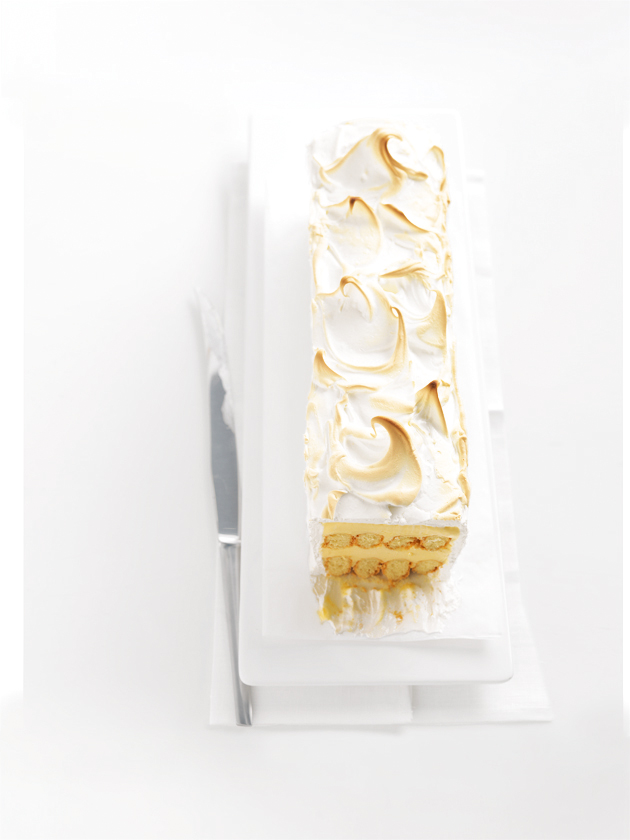 1 cup (250ml) limoncello+

2 tablespoons caster (superfine) sugar

24 small sponge finger biscuits

2 litres vanilla ice-cream

1 x 350g jar store-bought lemon curd

meringue
4 eggwhites

1 cup (220g) caster (superfine) sugar

1 teaspoon white vinegar

Heat the limoncello and sugar in a small saucepan over low heat and cook, stirring, until the sugar is dissolved. Bring to the boil and cook for 1 minute. Remove from the heat and set aside to cool completely.
Dip the biscuits in the cooled limoncello syrup and use to line the base of a 32cm x 7½cm x 8cm loaf tin double lined with plastic wrap.
Place the ice-cream in the bowl of an electric mixer and beat until softened. Add the lemon curd and fold through until just combined. Place ½ the ice-cream mixture in the tin and top with the remaining biscuits. Top biscuits with remaining ice-cream. Cover with plastic wrap and freeze for 2–3 hours or overnight.
Place the eggwhites in the bowl of an electric mixer and beat until soft peaks form. Gradually add the sugar and vinegar and beat until the mixture is thick and glossy. Carefully invert the bombe alaska and, using a palette knife, cover the top and sides with the meringue.
Place under a preheated hot grill (broiler) and grill (broil) for 1 minute or until golden. Serves 6–8.

+ Limoncello is an Italian lemon-flavoured liqueur available from all good liquor stores.
There are no comments for this entry yet.