pandoro and vanilla bombe alaska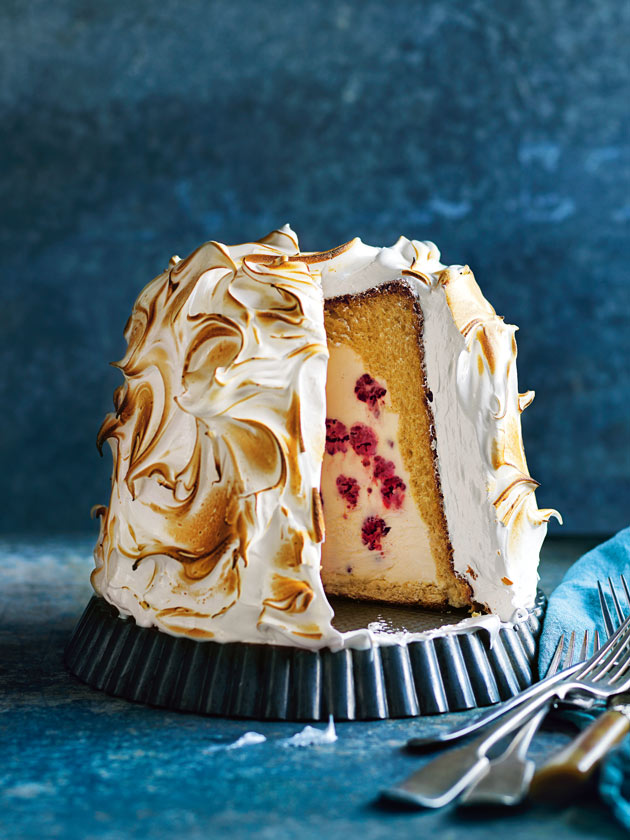 1kg pandoro+

¼ cup (60ml) sloe gin++

3 litres vanilla ice-cream, softened

2 cups (300g) frozen raspberries
italian meringue
⅓ cup (80ml) water

½ teaspoon cream of tartar

2 cups (440g) caster (superfine) sugar

150ml eggwhites (about 4 eggwhites)

Using a serrated knife, slice the base off the pandoro, 
about 2cm-thick. Using a 13cm-round plate as a guide, 
cut a round from the removed cake base and reserve. Using the same plate as a guide and leaving a 2cm-thick edge, cut into the cake and remove the centre, to make 
a hollow. Brush the inside of the pandoro with the gin.

Place the ice-cream and raspberries in a large bowl and mix to combine. Working quickly, spoon the ice-cream mixture into the pandoro, top with the reserved pandoro base and press to secure. Place, base-down, on a baking tray lined with non-stick baking paper and freeze for 
3–4 hours or until completely set.

While the ice-cream is setting, make the Italian meringue. Place the water, cream of tartar and half 
the sugar in a small saucepan over high heat. Cook, stirring, until the sugar has dissolved. Bring to the boil, reduce heat to medium and cook for 4 minutes. Place 
the eggwhites in the bowl of an electric mixer and whisk 
on high speed until stiff peaks form. While the motor 
is running, add the remaining sugar, 1 tablespoon at 
a time, whisking until thick and glossy. Gradually add 
the hot sugar syrup in a thin steady stream and whisk 
for 4 minutes, or until cool.

Using a palette knife, spread the meringue over the pandoro. Using a kitchen blowtorch, toast the meringue until golden brown. Serve immediately. Serves 8.
+ Pandoro is an Italian star-shaped sweet yeasted bread, available from delicatessens and selected greengrocers. If you can't find pandoro, use plain or fruit panettone.
++ Sloe gin has a fruity flavour which works beautifully 
with the bombe alaska. If unavailable, omit from the recipe.
There are no comments for this entry yet.