raw choc-hazelnut raspberry tart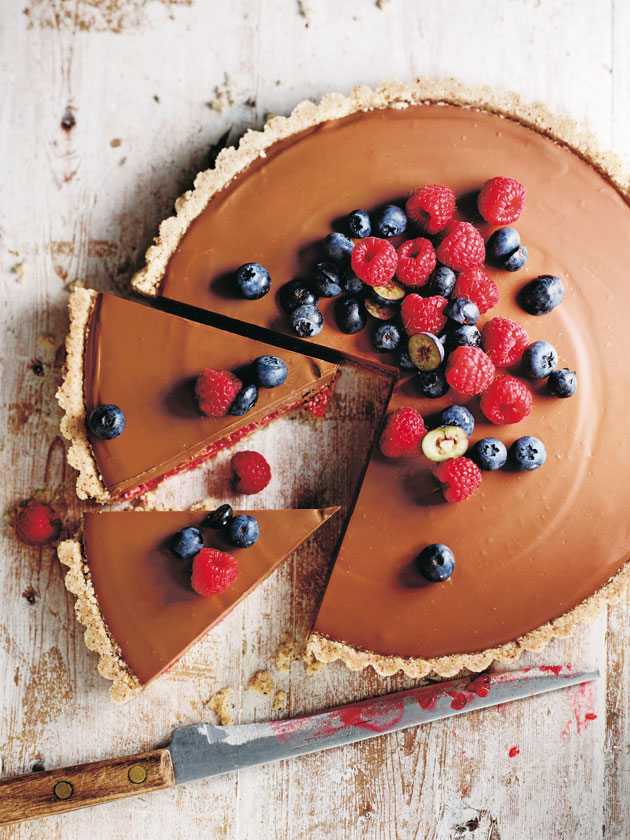 fresh raspberries, to serve

fresh blueberries, to serve

raspberry jam
200g fresh raspberries

1 tablespoon maple syrup

¼ cup (50g) white chia seeds

hazelnut base
1½ cups (210g) hazelnuts

½ cup (40g) desiccated coconut

2 tablespoon coconut oil

chocolate mousse
150g 70% dark chocolate, chopped

400ml can coconut cream

¼ cup (50g) coconut oil

To make the raspberry jam, place the raspberries and maple syrup in a medium bowl and mash with a fork. Add the chia and set aside for 15 minutes to thicken.

To make the base, place the hazelnuts, coconut and coconut oil in a food processor and process until the mixture comes together. Press into the base and sides of a lightly greased 22cm round loose-bottomed fluted tart tin. Refrigerate for 30 minutes or until firm. Pour over the raspberry jam, spread evenly and refrigerate for 10 minutes.

To make the chocolate mousse, place the chocolate in a heatproof bowl over a saucepan of simmering water and cook, stirring until melted and smooth. Remove from the heat, add the coconut cream and coconut oil and whisk well to combine. Spoon onto the tart, smoothing the top, and refrigerate for 20 minutes or until set.

Carefully remove the tart from the tin and top with raspberries and blueberries to serve. Serves 6–8.

Christina Williamson
This is an amazing dessert. Made it on Christmas Day. It kept well in the fridge for a few days too
donna hay team
Hi Tara, these tarts are at their best made the day you would like to serve it. The DH team
Tara Forbes
Can you make this the day before? Will it keep well? Thanks