blueberry tart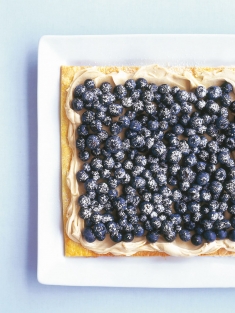 1 sheet ready prepared shortcrust pastry

1 egg, lightly beaten

2 teaspoons white sugar

1 cup (240g) sour cream

⅓ cup (60g) brown sugar

½ teaspoon vanilla extract

2 cups (300g) fresh blueberries

icing (confectioner's) sugar, to serve

Preheat oven to 180ºC (355ºF). Trim the edges of pastry to form a square and place on a baking tray lined with non-stick baking paper. Brush with the egg and sprinkle with the white sugar. Bake for 15 minutes or until golden.

Mix the sour cream, brown sugar and vanilla until just combined. Spread over the pastry, top with the blueberries and dust with the icing sugar to serve. Serves 4–6.

There are no comments for this entry yet.