fruit compote with vanilla custard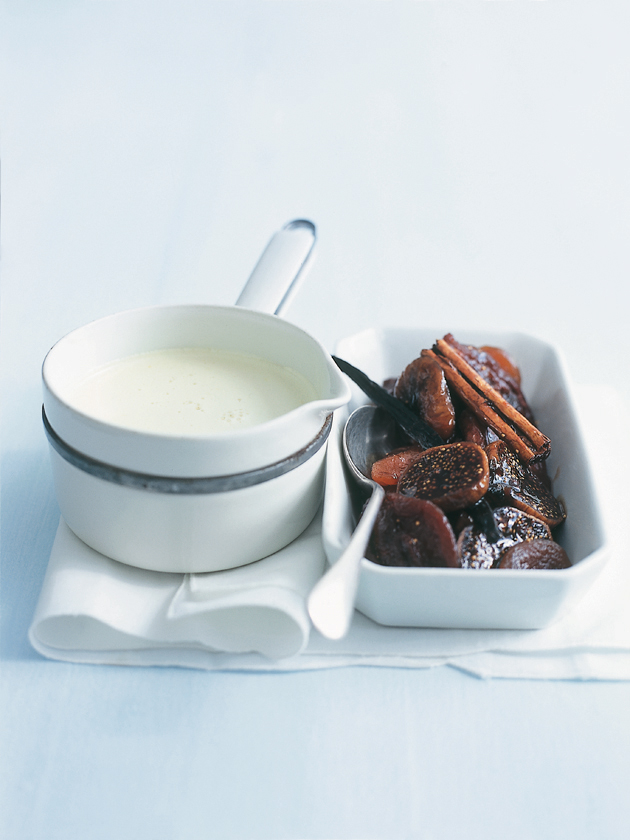 2 cups (500ml) pouring (single) cream

1 teaspoon vanilla bean paste

5 egg yolks

⅓ cup (75g) caster (superfine) sugar

1 tablespoon cornflour (cornstarch)

fruit compote
¼ cup (60ml) water

½ cup (125ml) Marsala*

2 tablespoons caster (superfine) sugar

1 stick cinnamon

1½ vanilla bean, split and scraped

½ cup (75g) dried apricots

½ cup (75g) dried pears

½ cup (100g) dried figs, halved

To make the fruit compote, place the water, Marsala, sugar, cinnamon and vanilla in a saucepan over medium heat and stir until sugar is dissolved. Add the apricots, pears and figs and bring to the boil. Reduce heat to low and simmer for 5–7 minutes. Set aside.

Place the cream and vanilla in a saucepan over medium heat until it just comes to the boil. Remove from the heat and set aside. Place the yolks, sugar and cornflour in a bowl and whisk to combine. Gradually add the cream mixture, whisking continuously. Return to the saucepan and stir over low heat for 3-4 minutes or until the mixture is thickened and coats the back of a spoon. Serve warm with the fruit. Serves 4.

* Marsala is a fortified wine from Sicily. It is similar to port.
There are no comments for this entry yet.