cardamom and coffee custards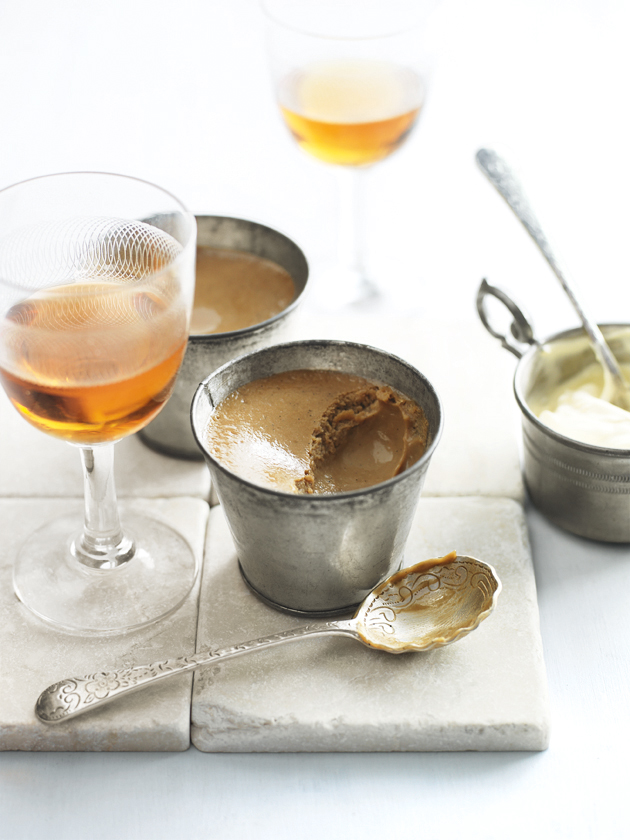 2 cups (500ml) single (pouring) cream

8 cardamom pods, bruised+

1 vanilla bean, split and seeds scraped

2 teaspoons instant coffee

6 egg yolks

⅓ cup (60g) brown sugar

double (thick) cream, to serve

Preheat oven to 160°C (325°F). Place the cream, cardamom, vanilla and coffee in a medium saucepan over high heat and bring to the boil. Reduce heat to low and simmer for 5 minutes. Allow to cool slightly.
Place the egg yolks and sugar in a medium bowl and whisk until thick and creamy. Pour the egg mixture into the cream mixture and whisk until well combined. Strain into a clean saucepan and place over medium heat. Cook, stirring, for 4–5 minutes or until the mixture coats the back of a spoon.
Pour into 4 x ¾ cup-capacity (180ml) ovenproof ramekins. Place in a baking dish and pour in enough boiling water to come halfway up the sides of the ramekins. Bake for 15–20 minutes or just set. Refrigerate for 2 hours or until set. Serve with cream. Makes 4.

+ Carefully bruise the cardamom pods with a pestle or a knife handle, taking care to point the blade away from you.
There are no comments for this entry yet.