almond-milk-braised pork pies
with caramelised fennel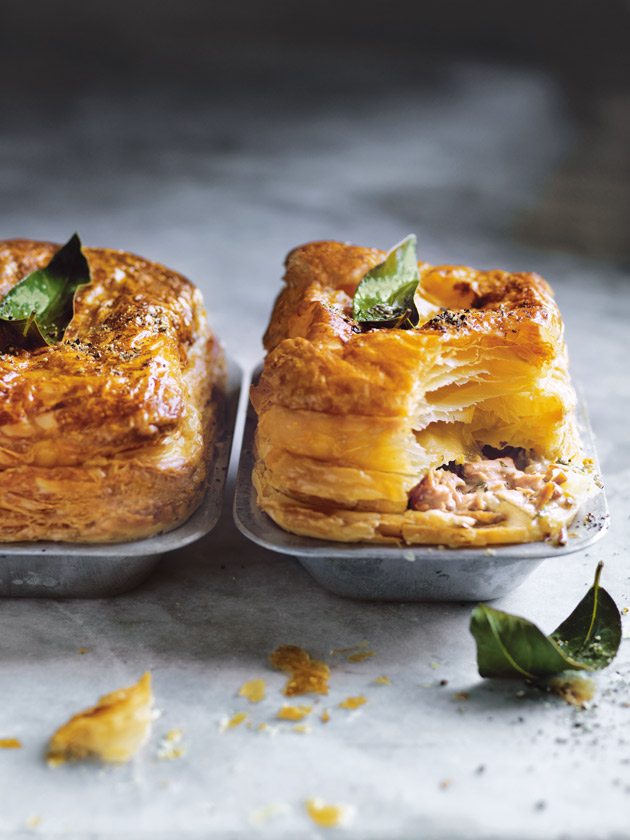 1 tablespoon extra virgin olive oil

1kg boneless pork neck, cut into 4cm pieces

sea salt and cracked black pepper

2 cups (500ml) almond milk

1 cup (250ml) single (pouring) cream

peel of 1 lemon

6 cloves garlic, thinly sliced

1 teaspoon fennel seeds

3 sprigs bay leaves (about 18 leaves)

3 x 375g sheets frozen puff pastry, thawed

1 egg

1 tablespoon single (pouring) cream, extra

caramelised fennel
1 tablespoon extra virgin olive oil

20g unsalted butter

4 medium fennel bulbs, trimmed and sliced

sea salt and cracked black pepper

2 teaspoons caster (superfine) sugar

1 tablespoon apple cider vinegar

½ cup chervil leaves, finely chopped

Preheat oven to 180°C (350°F). Heat the oil in a large heavy-based ovenproof saucepan over high heat. Sprinkle the pork with salt and pepper and cook in 2 batches, turning, for 6 minutes or until golden. Add the almond milk, cream, peel, garlic, fennel seeds and 1 bay sprig. Stir to combine and bring to a simmer. Cover with a tight-fitting lid and transfer to the oven. Cook for 1 hour or until the pork is tender.

Remove the pork from the liquid and set aside. Remove and discard the peel and bay leaves. Place the liquid over high heat, bring to the boil and cook for 12 minutes or until reduced. Shred the pork, return to the pan, stir to combine.

To make the caramelised fennel, heat the oil and butter in a large non-stick frying pan over medium heat. Add the fennel, salt and pepper and cook, stirring, for 10 minutes. Add the sugar and vinegar and cook for 2 minutes or until caramelised. Add the chervil and set aside.

Increase the oven temperature to 200°C (400°F). Lightly grease 4 x 15cm x 11cm (250ml) pie dishes. Cut 4 rectangles of pastry to fit the tops of the dishes and refrigerate. Use the remaining pastry to line each dish. Divide the fennel then pork mixture between the pies. Place the egg and extra cream in a small bowl and whisk to combine. Brush the edge of each pie with egg mixture and top with pastry. Brush the pies with egg mixture. Arrange the remaining bay leaves on the pies, place on an oven tray and cook for 20 minutes or until golden. Sprinkle with pepper to serve. Makes 4.
Tips + Tricks
+ For most of these recipes, we've used a French-style all-butter puff pastry(Carême) that's ready-rolled in 375g 27cm x 36cm sheets. Find it in the freezer section of independent supermarkets and greengrocers.
+ If you can't get a single 375g-sheet of puff pastry, you can simply place 2 sheets of regular thawed puff pastry together, so they overlap by 4cm. Using a rolling pin, roll the sheets together to secure, then trim any excess pastry from the edges.
donna hay team
Hi Kirsten, yes you could. The DH Team.
Kirsten Moore
Could you freeze the cooked mixture??