cheat's chilli duck and basil stir-fry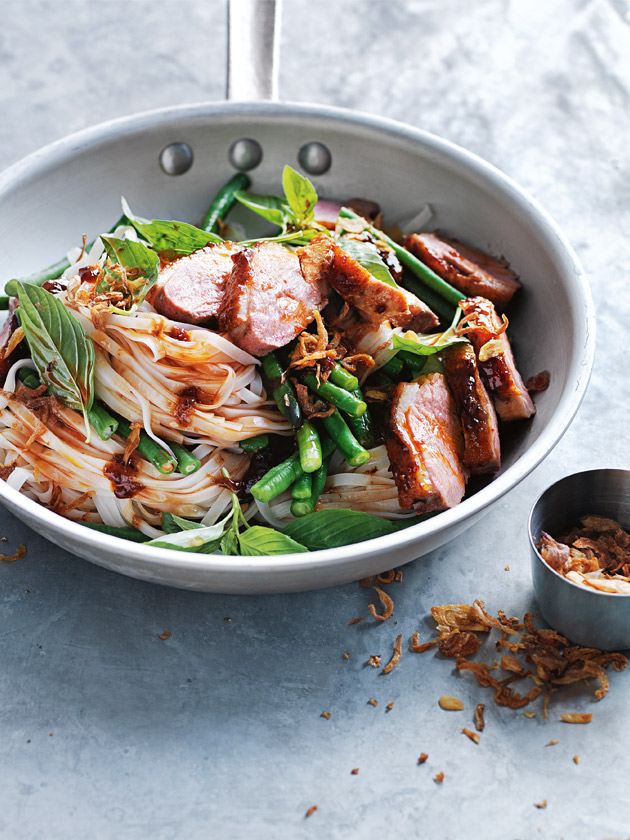 ⅓ cup (110g) Asian chilli jam

¼ cup (60ml) lime juice

4 x 220g duck breasts fillets, trimmed and scored

200g thick rice noodles, cooked

1 bunch snake beans, blanched and cut into 10cm lengths

1 cup Thai basil leaves, to serve

store-bought fried eschalots (French shallots), to serve

Place the chilli jam and lime juice in a small bowl, mix to combine and set aside. Heat a large frying pan over high heat. Add the duck and cook, skin-side down, for 6 minutes or until the skin is golden. Carefully drain the fat and turn over.
Brush the duck with half the chilli mixture and cook for a further 6 minutes or until cooked to rare. Remove from the pan and set aside to rest for 5 minutes.
Place the noodles, snake beans and remaining chilli mixture in a large bowl and toss to combine. Divide the mixture between bowls and top with the duck, basil leaves and fried eschalots to serve. Serves 4.
donna hay team
Hi Rebecca, sorry to hear that you didn't enjoy the recipe. We use an asian chilli jam found in most asian supermarkets - it has a great balance of sweet and spice. It is also sold as asian chilli bean paste with soy bean oil. The DH team x
Rebecca Aggett
Donna is usually my absolute go to but this dish was very average!!

I'm not sure if she should have specified what chilli jam to use but it was far too sour with the lime juice and the chilli jam didn't add any flavour aside from chilli…
very disappointed and would in future just follow the recipe on the jar of chilli jam. I'd go as far to say that maybe there was a typo with the recipe and how much lime juice plus chilli jam to use???