lamb shanks with tomato and rosemary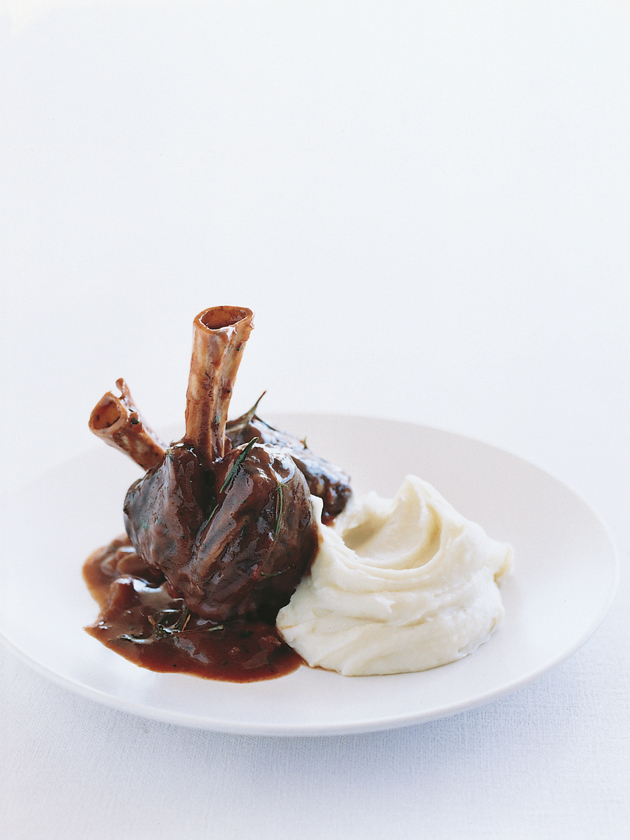 8 lamb shanks, trimmed+

plain (all-purpose) flour, for dusting

2 tablespoons olive oil

2 onions, sliced

4 cloves garlic, sliced

1 cup (250ml) red wine

2½ cups (625ml) beef stock

1 x 400g can crushed tomatoes

1 tablespoon rosemary leaves

2 tablespoons chopped flat-leaf parsley leaves

sea salt and cracked black pepper

mashed potato, to serve

Toss the lamb shanks in flour, shaking off any excess. Place half of the oil in a large casserole over high heat. Add the shanks and brown well. Remove and set aside. Add the remaining oil to the pan and cook the onions and garlic until golden. Return the shanks to the pan. Add the wine, stock, tomatoes and rosemary and bring to the boil. Reduce the heat, cover and simmer for 1 hour.

Remove the shanks and continue to simmer the sauce, uncovered, for 10 minutes or until reduced and thickened. Return the shanks to the pan with the parsley, salt and pepper. Mix through and serve with mashed potatoes. Serves 4.

+ Ask your butcher to trim both ends of the shanks for you. Although not essential, it makes them easier to handle and they fit better into the pan.
Paul Belcher
Me Too, In the Crock Pot, it was fabulous
Stephanie Biggin
I also put this in the slow cooker and it was perfect.
rhonda butler
This is making my whole house smell divine. Idid it in a slowcooker,yum.