pear and quince glazed ham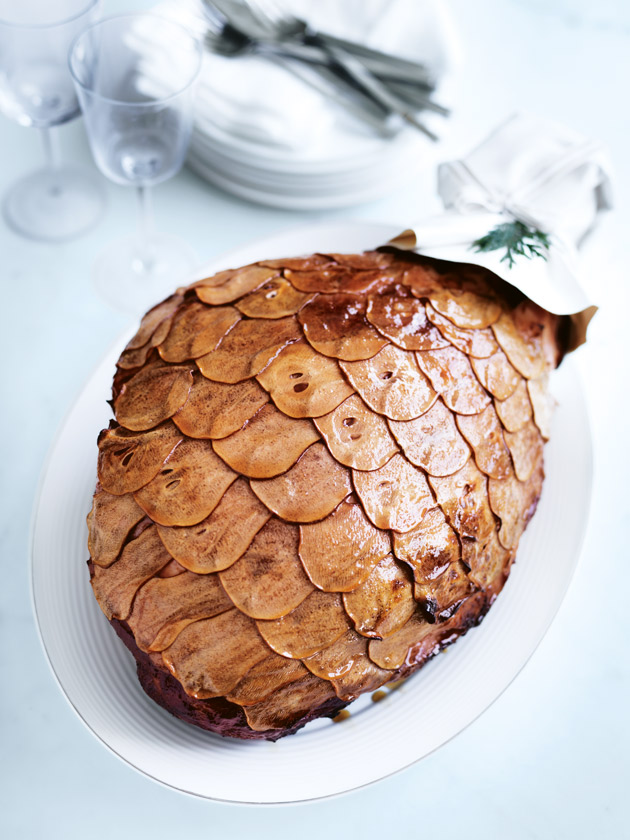 5–6kg leg ham

100g tub quince paste

1 tablespoon sherry vinegar

¾ cup (265g) golden syrup

3 firm brown pears (about 600g), thinly sliced using a mandolin

Using a small, sharp knife, carefully score the skin around the hock. Gently ease off the skin by pushing your fingers underneath it. Discard the skin.

Preheat oven to 180°C (350°F). Place the quince, vinegar and ¼ cup (90g) of the golden syrup in a small saucepan over high heat and whisk to combine. Bring to the boil and cook, whisking continuously, for 2 minutes or until thickened slightly. Set aside. Cover the ham hock with baking paper and tie with kitchen string to secure. Brush the ham with the quince mixture.

Cover with the pear slices, ensuring they overlap slightly. Carefully brush with the remaining golden syrup and place on a lightly greased oven tray lined with non-stick baking paper.

Cook for 40–50 minutes, brushing gently every 12–15 minutes with the golden syrup and pan juices or until the pears are golden and caramelised. Serves 8–10.

TIPS
+ You can keep your ham in a cloth ham bag for up to five days. Just make sure to rinse the bag with white vinegar and water after each use.
+ We used beurre bosc pears, but any firm pear will work just as well.
There are no comments for this entry yet.