soufflé omelette with harissa-spiced lamb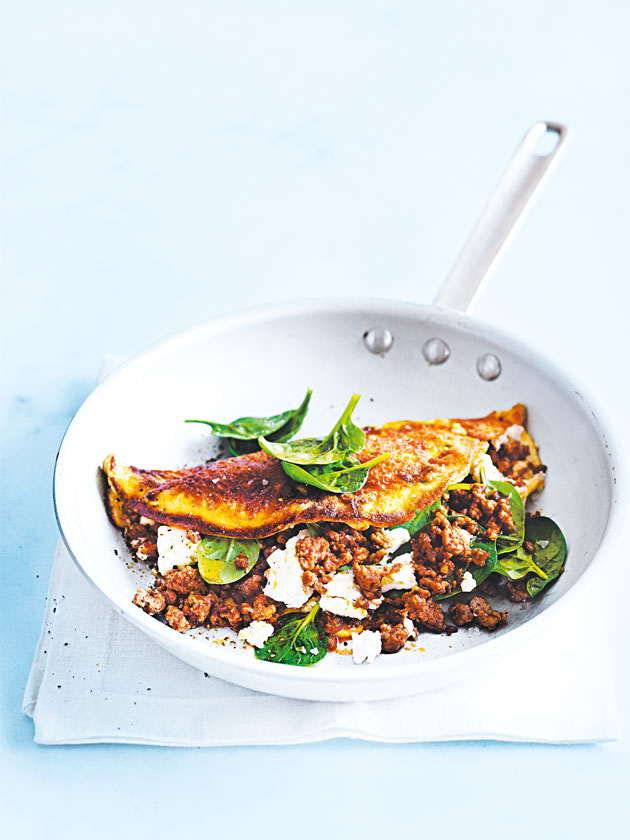 1 tablespoon extra virgin olive oil

250g lamb mince

1 clove garlic, crushed

1 teaspoon harissa paste

½ teaspoon ground cumin

3 eggs, separated

2 tablespoons single (pouring) cream

¼ cup oregano leaves

sea salt and cracked black pepper

½ cup baby spinach leaves

75g feta, crumbled

Heat half the oil in a medium non-stick frying pan over high heat, add the mince, garlic, harissa and cumin and cook for 5–6 minutes or until browned. Transfer to a bowl and set aside.

Place the egg yolks, cream, oregano, salt and pepper in an bowl and whisk to combine. Place the eggwhites in a clean bowl and whisk until soft peaks form. Gently fold the eggwhite into the egg yolk mixture.

Wipe out the frying pan with paper towel. Heat the remaining oil over medium heat. Add the egg mixture and cook for 2–3 minutes or until the base is golden brown and the top is just set.

To serve, top the omelette with the lamb, spinach and feta. Using a spatula, carefully fold over, sprinkle with salt and pepper and serve immediately. Serves 2.

There are no comments for this entry yet.