sage and polenta madeleines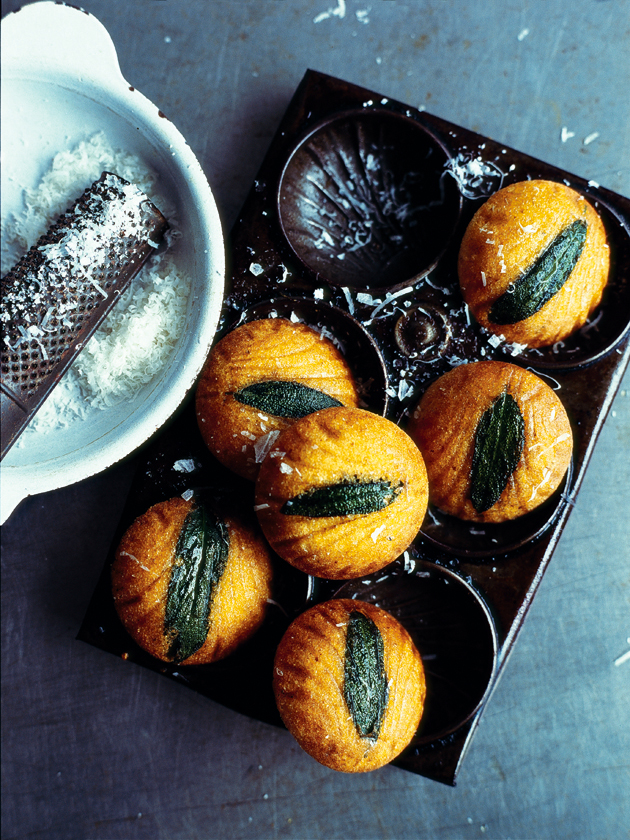 ⅓ cup (55g) instant polenta
2 tablespoons plain (all-purpose) flour, sifted
¼ teaspoon bicarbonate of (baking) soda, sifted
½ cup (40g) finely grated parmesan
sea salt and cracked black pepper
20g butter, melted
1 egg
⅓ cup (80nl) buttermilk
12 sage leaves
finely grated parmesan, extra, to serve

Preheat oven to 180°C (355°F). Place the polenta, flour, bicarbonate of soda, parmesan, salt and pepper in a bowl and mix well to combine. Add the butter, egg and buttermilk and stir until smooth. Lightly grease 12 madeleine moulds and place a sage leaf in the base of each. Spoon the polenta mixture on top of the sage leaves and bake for 8–10 minutes or until cooked when tested with a skewer. Turn out onto a wire rack and sprinkle with extra parmesan to serve. Makes 12.
+ Serve the madeleines warm or at room temperature as a savoury snack with cheeses and a glass of wine.
There are no comments for this entry yet.