butternut mac and cheese
with rosemary and seed topping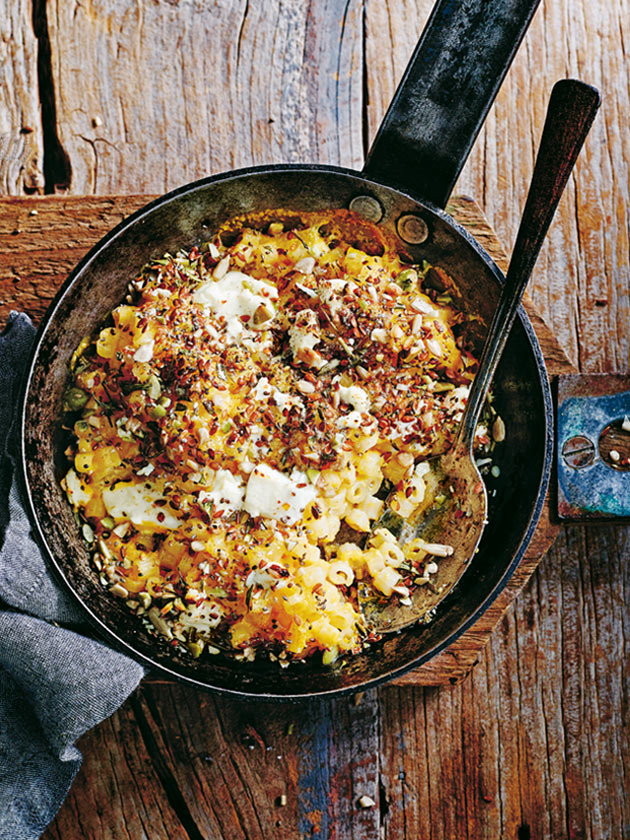 1 teaspoon extra virgin olive oil

1 onion, finely chopped

3 cloves garlic, sliced

750g butternut pumpkin (squash), peeled and grated

2¼ cups (560ml) milk

2 teaspoons sea salt flakes

cracked black pepper

400g baby anellini quinoa and rice pasta+

100g soft goat's cheese

rosemary and seed topping
¼ cup (35g) sunflower seeds, roughly chopped

¼ cup (50g) pepitas (pumpkin seeds), roughly chopped

2 tablespoons linseeds (flaxseeds)

1 tablespoon black chia seeds

2 tablespoons rosemary leaves, roughly chopped

¼ teaspoon ground nutmeg

Preheat oven to 240°C (475°F). To make the rosemary and seed topping, place the sunflower seeds, pepitas, linseeds, chia, rosemary and nutmeg in a small bowl and mix to combine. Set aside.
Heat the oil in a large non-stick frying pan over medium heat. Add the onion and garlic and cook, stirring, for 5–6 minutes or until softened.
Add the pumpkin and cook for 7–8 minutes or until softened. Add the milk, salt and pepper and stir until warmed through. Remove from the heat and, using a hand-held stick blender, blend until smooth.
While the sauce is cooking, cook the pasta in a large saucepan of salted boiling water for 10–12 minutes or until al dente. Drain well and return to the pan.
Add the pumpkin mixture and divide between 4 x 1¾-cup-capacity (430ml) ovenproof dishes. Top with the cheese and seed topping.
Place on a large oven tray and cook for 8–10 minutes or until golden brown. Serve. Serves 4.
+ Baby anellini quinoa and rice pasta is a gluten-free pasta that can be found in health food stores. You could substitute with a standard wholemeal macaroni or any gluten-free pasta.

There are no comments for this entry yet.