char-grilled lamb shoulder
with tomato and feta salad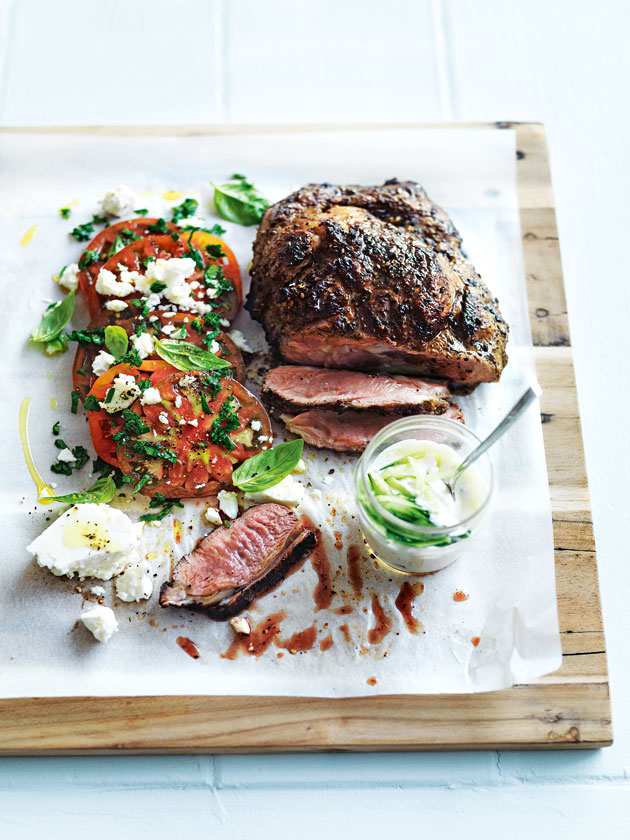 ¼ cup (60ml) extra virgin olive oil
¼ cup (60ml) red wine vinegar
2 tablespoons za'atar+
3 cloves garlic, crushed
sea salt and cracked black pepper
1 x 1.2kg boned lamb shoulder, butterflied to 3cm thick
500g tomatoes, thickly sliced
150g feta, crumbled
½ cup flat-leaf parsley leaves, roughly chopped
store-bought tzatziki and basil leaves, to serve

Preheat a char-grill pan over high heat. Place 2 tablespoons of the oil, 2 tablespoons of the vinegar, the za'atar, garlic, salt and pepper in a large bowl and mix to combine.

Add the lamb and toss to coat. Place the lamb on the char-grill pan and reduce the temperature to medium. Cook for 8–10 minutes each side for medium or until cooked to your liking. Place the tomato, feta, parsley, remaining oil and vinegar, salt and pepper in a bowl and toss to combine. Slice the lamb and serve with the salad, basil and tzatziki. Serves 4.

+ Za'atar is a Middle Eastern spice mix made from dried herbs, sesame seeds and sumac. Find it at some supermarkets and spice shops.
Cat G
This was delicious! Especially with the zaatar which Ive never used before.
I served my meat with roasted veggies and green salad from the garden. X