chinese roasted duck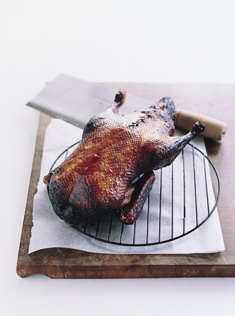 1.7kg duck

5 slices orange rind

3 star anise

1 cinnamon stick

glaze
2 tablespoons soy sauce

½ cup (125ml) water

1 tablespoon honey

1 tablespoon Shaoxing (Chinese cooking wine) or dry sherry

2 teaspoons brown sugar

¼ teaspoon Chinese five-spice powder

Wash the duck and remove any excess fat from inside the cavity. Pat dry with absorbent paper and prick all over. Place in a large saucepan of boiling water for 20 seconds, then transfer to a wire rack in a baking tray and refrigerate for 2 hours to dry the skin.

To make the glaze, place the soy sauce in a small saucepan over medium–high heat and simmer for 1 minute. Add the water, honey, Shaoxing, sugar and Chinese five-spice and heat until the sugar is dissolved. Set aside.

Preheat oven to 200ºC (390ºF). Place the orange rind, star anise and cinnamon inside the duck and fasten the cavity with a metal skewer. Brush the duck with the glaze and place, breast-side down, on an oiled rack in a baking tray lined with aluminium foil. Bake for 30 minutes, brushing frequently with the glaze. Turn the duck and brush with glaze. Cook for a further 30 minutes, brushing frequently with the glaze. Slice and serve as part of a salad or with steamed Asian greens and rice. Serves 4.

There are no comments for this entry yet.