crispy spiced thai chicken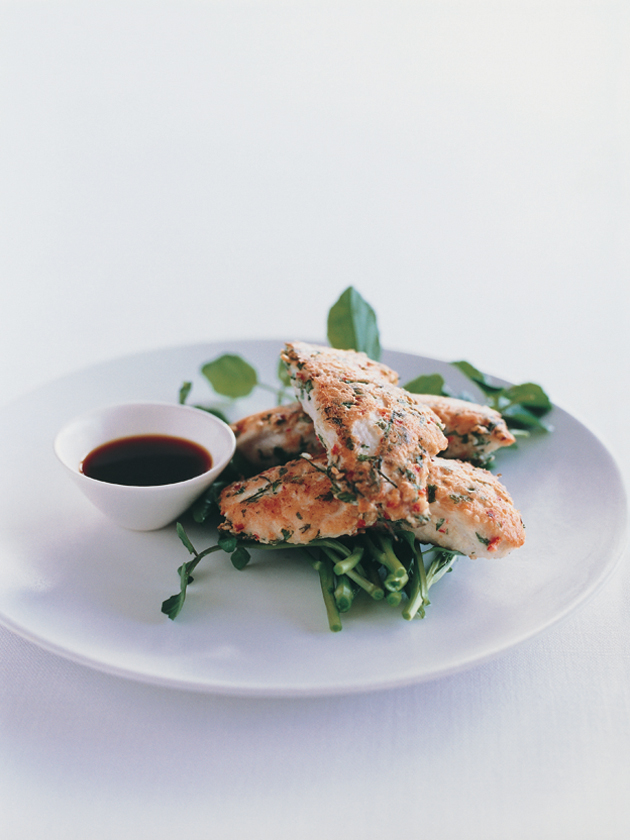 3 chicken breast fillets, quartered

2 eggwhites, lightly beaten

2 tablespoons fine rice flour

2 red chillies, chopped

3 tablespoons chopped coriander (cilantro) leaves

4 kaffir lime leaves, shredded

3 tablespoons sesame seeds

2-3 tablespoons peanut oil

watercress sprigs, to serve

dipping sauce
3 tablespoons soy sauce

2 tablespoons lemon juice

1 tablespoon brown sugar

Combine the chicken, eggwhite, rice flour, chilli, coriander, lime leaves and sesame seeds in a bowl. Heat a frying pan over medium heat. Add the oil and cook the chicken for 3 minutes on each side or until golden and cooked through. Drain on absorbent paper.

To make the dipping sauce, place the soy, lemon juice and sugar in a bowl and mix to combine. Serve the chicken on some watercress with dipping sauce on the side. Serves 4.

There are no comments for this entry yet.