char-grilled chilli octopus noodle salad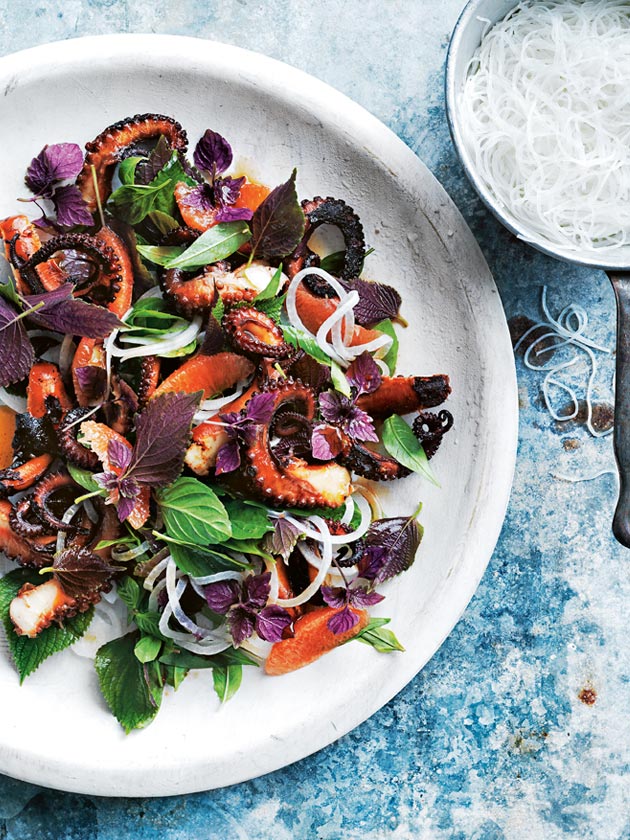 1 bulb garlic, halved

4 star-anise

4 whole dried chillies

4cm piece ginger, peeled and sliced

1 teaspoon sesame oil

⅓ cup (80ml) oyster sauce

⅓ cup (80ml) soy sauce

⅓ cup (80ml) Chinese cooking wine (Shaoxing)

4 medium octopuses, heads removed

1 tablespoon peanut oil

1 tablespoon Asian chilli jam

¼ cup (60ml) lime juice

1 cup Thai basil leaves

½ cup Vietnamese mint leaves

1 small white onion, thinly sliced

1 cup purple shiso leaves

1 ruby grapefruit, segmented

200g vermicelli rice noodles, cooked

Place the garlic, star-anise, chillies, ginger, sesame oil, oyster sauce, soy sauce and cooking wine in a large heavy-based saucepan. Add the octopus and place over high heat. Bring to the boil, cover with a tight-fitting lid, reduce heat to low and cook for 1 hour, turning halfway. Remove the octopus from the pan and set aside. Strain the cooking liquid, reserving 1 cup (250ml).

Preheat a char-grill pan or barbecue to high heat. Drizzle the octopus with the peanut oil and cook, turning, for 10 minutes or until charred. Slice and set aside.

Add the chilli jam and lime juice to the reserved cooking liquid and mix to combine. Place the basil, mint, onion, shiso, grapefruit, octopus and chilli jam dressing in a large bowl and toss to combine. Serve with the rice noodles. Serves 6.

There are no comments for this entry yet.