christmas pudding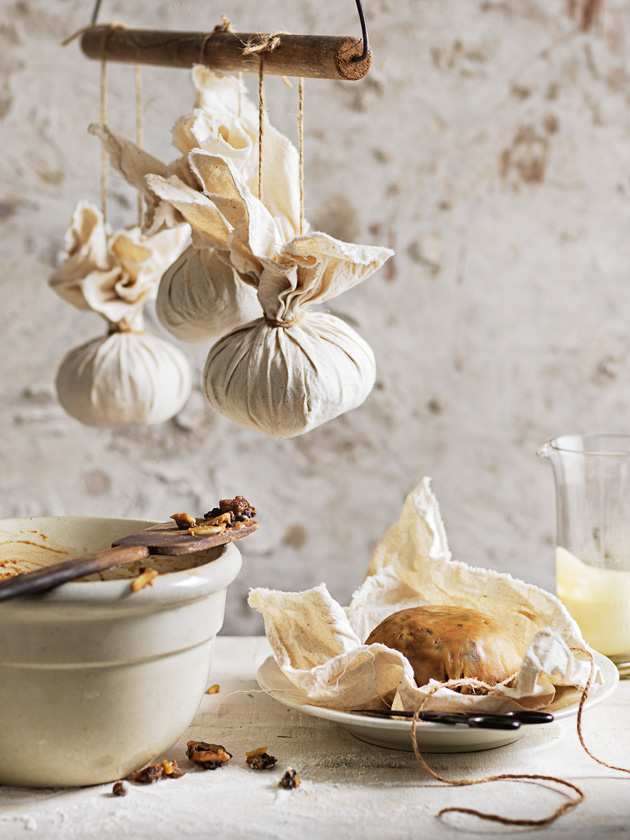 ¼ cup (40g) sultanas

½ cup (80g) currants

¾ cup (100g) raisins

8 soft fresh dates (160g), pitted and chopped

½ cup (70g) slivered almonds

½ teaspoon mixed spice

⅓ cup (80ml) sweet sherry

⅔ cup (160ml) brandy

125g unsalted butter, chopped and softened

¼ cup (45g) brown sugar

2 eggs

⅔ cup (100g) plain (all-purpose) flour, sifted
1½ cups (140g) fresh white breadcrumbs
brandy custard, to serve
Place the sultanas, currants, raisins, dates, almonds, mixed spice, sherry and half the brandy in a large bowl and mix to combine. Cover with plastic wrap and allow to soak in a cool, dark place for 24 hours, mixing occasionally.

Place the butter and both the sugars in
the bowl of an electric mixer and beat for 8–10 minutes or until pale and creamy. Add the eggs, 1 at a time, beating well after each addition. Add the butter mixture, half the flour and the breadcrumbs to the soaked fruit and mix to combine.

Place a large saucepan of water over
high heat and bring to the boil. Add a 60cm-square piece of calico cloth and boil for 5 minutes. Using tongs, remove the calico and allow to cool. Squeeze to remove any excess water. Drain, refill the pan with water and bring to the boil. Open the calico out and top with the remaining 1⁄3 cup (50g) of flour.

Rub the flour over the calico to form a large circle. Spoon the pudding mixture into the centre of the calico to form a mound and gather the ends together firmly. Tie the calico as close to the mixture as possible with kitchen string, leaving at least a 15cm length of string at both ends (see cook's tips, page 131). Place the pudding in the water, reduce the heat to medium and cover with a tight-fitting lid. Simmer for 4 hours, adding more water if necessary.

Drain and hang the pudding over a bowl
for 24–48 hours or until dry. Cut the string and invert the pudding onto a serving plate. Gently remove the cloth, top with the remaining 1⁄3 cup (80ml) of brandy and serve with brandy custard. Serves 6–8

Cook's tips
+ While English tradition would see
families make their puddings on the last Sunday of November and hang them in a
cool place until Christmas, warm Australian summers say otherwise! If the
weather's warm, it's best to make this pudding up to 2 weeks in advance and
store it in the refrigerator. You can reheat the pudding by boiling it for 1
hour or simply removing it from the cloth and microwaving it in single serves.
donna hay team
Hi Bree, stored in the refrigerator, the puddings will last for up to 2 months. The DH team x
donna hay team
Hi Bree, these puddings are best stored in the refrigerator wrapped in cling film. To reheat, rewrap your puddings in calico and add to boiling water and heat for 30 minutes. Or alternatively, you can reheat them wrapped in cling film in the microwave. The DH team x
Bree Hipworth
How long does the pudding last once it is cooked?
Bree Hipworth
I would like to make these for gifts. Could you please confirm how long they last, storage instructions and re-heating instructions. Thanks Bree