miso salmon with sesame salt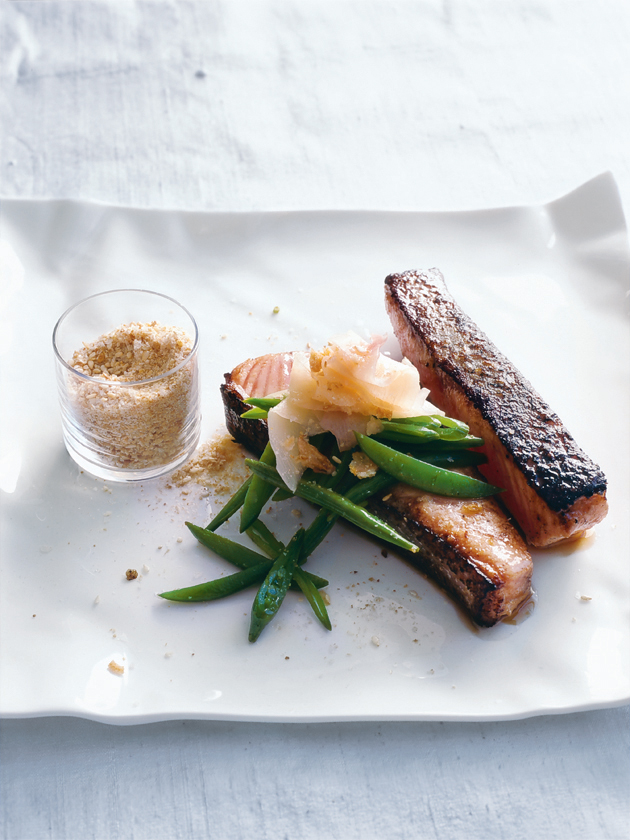 2 x 250g salmon fillets, skin on, pin-boned+

1 tablespoon white miso paste

1 tablespoon rice wine vinegar, plus 1 teaspoon extra

2 tablespoons vegetable oil

200g sugar snap peas, blanched and sliced

1 clove garlic, crushed

¼ cup store-bought fried shallots and pickled ginger++

sesame salt
1 tablespoon seasame seeds, toasted

1 teaspoons sea salt flakes

To make the sesame salt, place the sesame and salt in a mortar and pestle and crush. Set aside.

Slice the salmon into fingers and place in a non-metallic dish. Combine the miso and vinegar, add to the salmon and toss to coat. Heat a wok or large non-stick frying pan over high heat until hot. Add the oil and heat until just smoking. Cook the salmon, in batches, for 1 minute, turning, until skin is crispy and fish is just cooked through. Remove and set aside.

Add the peas, garlic and extra vinegar to the wok and cook, stirring, for 30 seconds. Arrange on plates, top with salmon pieces and sprinkle with sesame salt. Serve with fried shallots and pickled ginger. Serves 4.

+ Get your fishmonger to pin-bone the salmon for you or run your fingers across the fish and pull out any protruding bones with kitchen tweezers.
++ Fried shallots and pickled ginger are available from the Asian section of your supermarket or Asian grocery stores.
+++ Serve with steamed rice or Japanese noodles, such as soba.
There are no comments for this entry yet.