raw choc peanut slice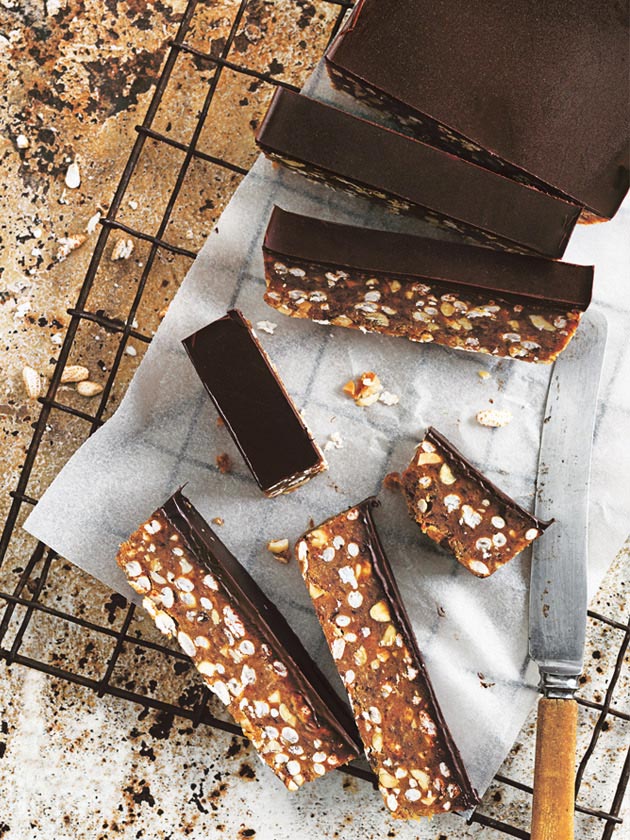 400g fresh dates, pitted

⅓ cup (95g) natural smooth peanut butter+

2 teaspoons vanilla extract

1 cup (15g) puffed brown rice++

½ cup (70g) unsalted roasted peanuts, roughly chopped

80g raw organic 70% dark chocolate, melted+++

Place the dates, peanut butter and vanilla in a food processor and process for 2–4 minutes or until the mixture comes together to form a paste. Place the date mixture, puffed rice and peanut in a large bowl and mix to combine.

Press the mixture into a lightly greased 10cm x 20cm loaf tin lined with non-stick baking paper. Pour over the melted chocolate and, using a palette knife, spread evenly. Refrigerate for 20–30 minutes or until set.

Remove from the pan, slice into logs using a hot knife and keep refrigerated until ready to serve. Makes 20.

+ Your average peanut butter can contain extra sodium, oils and sugar, so it's best to use natural varieties, from the health food aisle in supermarkets or made fresh in health food stores.
++ Puffed brown rice is available from health food stores.
+++ Raw organic dark chocolate is available from health food stores. You can also substitute it for 70% dark chocolate. To keep the chocolate raw while melting, make sure not to heat the chocolate over 42°C (107°F). The best way to control this is to place the chocolate in a heatproof bowl with a kitchen thermometer. Place the bowl over a small saucepan of boiling water, making sure the bottom of the bowl doesn't touch the water, and stir until melted.
Tip: These bars will keep refrigerated in an airtight container for up to two weeks.
Laina Leuenberger
This is a great version of a Raw Snickers Bar! Even my husband who is a chocoholic and not a dates fan loved it. Will definitely make this again!!
Lauren Cowie
AMAZING. This slice is divine. Kicks my chocolate cravings really well. Delicious.
RELATED VIDEO