maple caramel hazelnut slice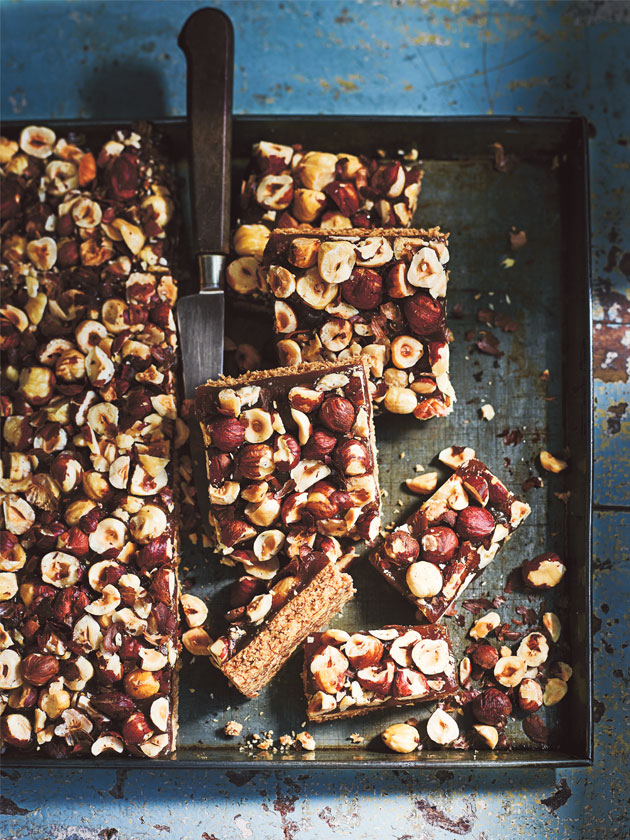 1½ cups (135g) rolled oats

1½ cups (120g) desiccated coconut

1 cup (120g) almond meal (ground almonds)

15 fresh dates (225g), pitted

1 teaspoon vanilla extract

50g unsalted butter, chopped and melted

2 cups (280g) hazelnuts, toasted and roughly chopped

maple caramel
½ cup (85g) rapadura sugar

1 teaspoon vanilla bean paste

1 cup (250ml) maple syrup

50g butter, chopped

Preheat oven to 160°C (325°F). Place the oats, coconut, almond meal, dates, vanilla and butter in a food processor and process for 3–4 minutes or until the mixture comes together.
Press into a lightly greased 20cm x 30cm slice tin lined with non-stick baking paper, smoothing the top with a spoon. Cook for 25 minutes or until firm. Set aside to cool slightly.

To make the maple caramel, place the sugar, vanilla and maple syrup in a medium saucepan over high heat. Cook for 8 minutes or until the temperature reaches 120°C (250°F) on a sugar thermometer. Add the butter and stir quickly to combine. Pour evenly over the base and top with the hazelnuts. Refrigerate for 1 hour to set. Slice and serve. Makes 20.

Note: You can refrigerate this slice in an airtight container for up to 10 days.
mojo16@outlook.com.au
Made this slice for work colleagues and everyone raved about it; it was absolutely delicious. Will certainly be making this slice again, again and again.
Tags:
almond meal
,
caramel
,
coconut
,
dates
,
hazelnut
,
healthy treat
,
maple
,
maple syrup
,
oats
,
slice
,
snack
,