rosemary and puffed amaranth chicken schnitzel
with couscous salad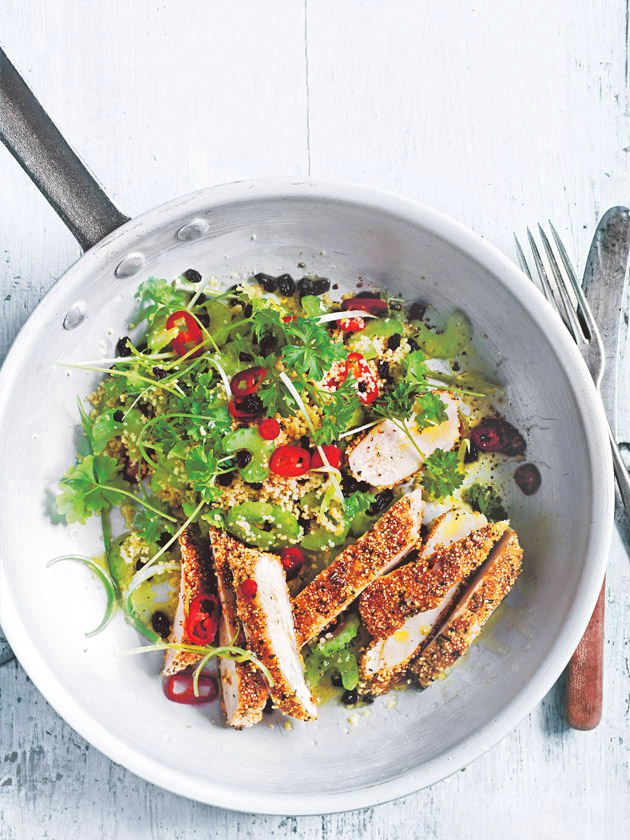 1½ cups (300g) whole wheat couscous

1½ cups (375ml) boiling water

1 cup (40g) puffed amaranth+

¼ cup rosemary leaves, finely chopped

sea salt and cracked black pepper

4 x 180g chicken breast fillets, trimmed

2 tablespoons extra virgin olive oil

3 sticks celery, thinly sliced

2 cups flat-leaf parsley leaves

¼ cup (40g) currants

2 green onions (scallions), thinly sliced

1 long red chilli, thinly sliced

micro (baby) parsley leaves, to serve

apple cider dressing
2 tablespoons extra virgin olive oil

2 tablespoons apple cider vinegar

2 teaspoons honey

Place the couscous and boiling water in a large heatproof bowl. Cover with plastic wrap and set aside for 10 minutes or until the water has absorbed. Use a fork to fluff up the grains and set aside to cool slightly.
Combine the amaranth, rosemary, salt and pepper on a plate and press both sides of the chicken in the mixture to coat. Heat the oil in a large non-stick frying pan over medium heat. Cook the chicken for 4–5 minutes on each side or until cooked. Slice and set aside.
To make the dressing, place the oil, vinegar and honey in a large bowl and whisk to combine. Add the couscous, celery, parsley, currants, onion and half the chilli. Toss to combine. Divide between bowls.
Top with the chicken, micro parsley and remaining chilli to serve. Serves 4.
+ Puffed amaranth is a gluten-free, high-protein seed with a mild flavour. Find it in health food stores.

There are no comments for this entry yet.