salmon and cashew curry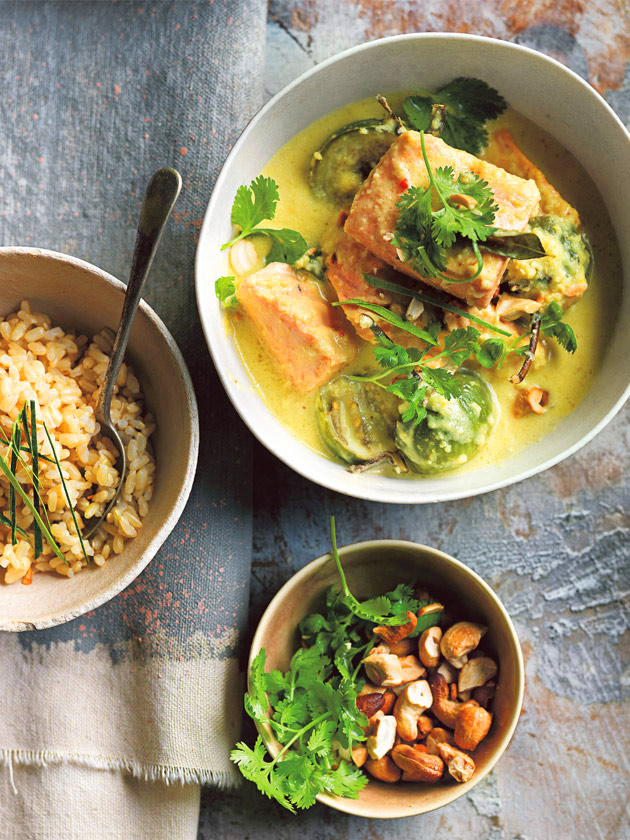 1 cup (150g) cashews

4 cloves garlic

¼ cup (45g) grated ginger

2 tablespoons grated fresh turmeric

1 bird's-eye chilli, chopped

1 cup (280g) natural Greek-style (thick) yoghurt, plus extra to serve

1 teaspoon mustard powder

2 teaspoons sea salt flakes

1 tablespoon grapeseed oil

2½ cups (625ml) coconut water

12 curry leaves

2 tablespoons fish sauce

8 Thai eggplants (aubergines)+, halved

800g skinless salmon fillets, cut into pieces

cooked brown rice, shredded kaffir lime leaves, coriander (cilantro) leaves and toasted cashews, to serve

Place the cashews in a bowl, cover with boiling water and set aside for 20 minutes to soften. Drain and place in small food processor. Add the garlic, ginger, turmeric, chilli, yoghurt, mustard powder and salt, and process until smooth.
Heat the oil in a large non-stick frying pan over low heat. Add the curry paste and cook, stirring, for 4–5 minutes. Increase heat to medium. Add the coconut water, curry leaves, fish sauce and eggplant and stir to combine. Cook for 5 minutes or until just simmering.
Add the salmon. Cook for 4–6 minutes or until just cooked through. Serve with rice, lime leaves, coriander leaves and cashews. Serves 4.
+ Thai eggplants (aubergine) are shaped like golf balls and are usually green and white in colour. They are available from specialty grocers – you could also use regular eggplants (aubergine) if they are unavailable.
There are no comments for this entry yet.
Tags:
brown rice
,
cashews
,
chilli
,
curry
,
easy weeknights
,
eggplant
,
fish sauce
,
fresh and light
,
greek yoghurt
,
salmon
,