zucchini, parsnip and celeriac pasta
with broccoli sauce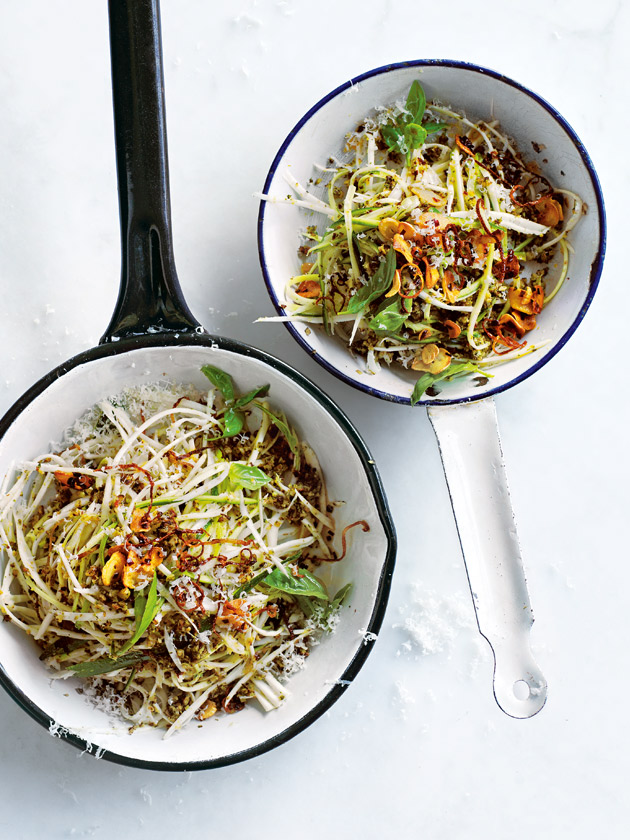 3 medium zucchinis (courgettes) (390g), shredded

3 medium parsnips (750g), peeled and shredded

1 small celeriac (celery root) (250g), peeled and shredded

extra virgin olive oil, for drizzling

finely grated parmesan and small basil leaves, to serve
broccoli sauce
8 cups (480g) broccoli florets

½ cup (40g) finely grated parmesan

⅓ cup (55g) cashews

1 teaspoon sea salt flakes

¼ cup (60ml) extra virgin olive oil

4 cloves garlic, sliced

2 long red chillies, seeded and finely chopped

2 tablespoons lemon zest

To make the broccoli sauce, place the broccoli, parmesan, cashews and salt in a food processor and process until the mixture resembles fine crumbs.
Heat the oil in a large non-stick frying pan over high heat. Add the garlic and chilli and cook, stirring, for 1–2 minutes or until soft.
Add the lemon zest and broccoli mixture and cook, stirring, for 6–8 minutes or until golden. Add the zucchini, parsnip and celeriac to the broccoli sauce and toss until combined.
Divide between serving bowls, drizzle with oil and top with parmesan and basil to serve. Serves 4

Photography: Chris Court
donna hay team
Hi Jen, yes this broccoli sauce is quite thick. It should be a similar consistency to pesto. Enjoy!
Jen Porter
Hi team, my broccoli sauce is a thick paste. Should it be runny?
donna hay team
Hi Gail, because the pasta is made just from zucchini it only needs a short time to wilt. The dh team
Gail Bryce
I don't understand how the "pasta" is cooked? Surely tossing it in the sauce isn't enough.