gingerbread village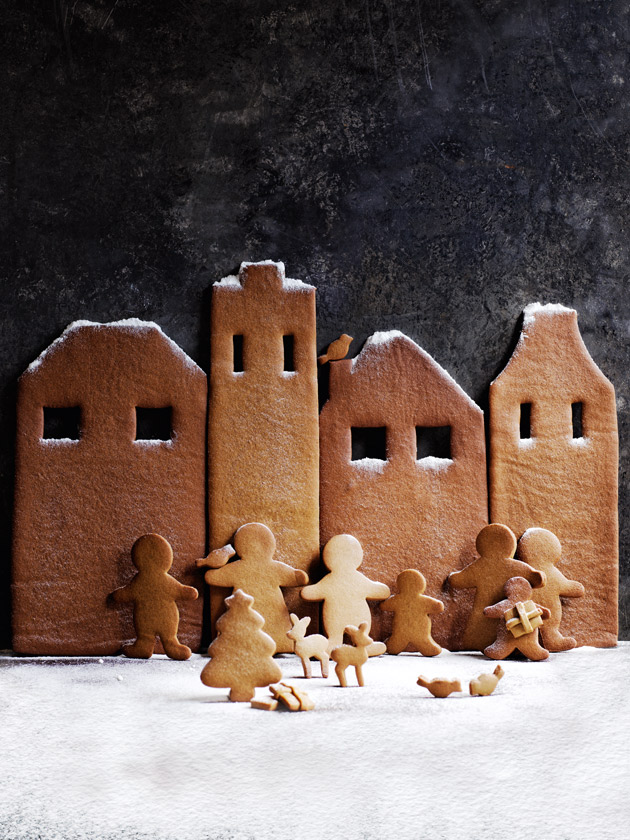 250g unsalted butter, softened

1 cup (240g) firmly packed brown sugar
1⅓ cups (460g) golden syrup+

5 cups (750g) plain (all-purpose) flour, sifted

2 teaspoons bicarbonate of (baking) soda, sifted
1 tablespoon ground ginger
2 teaspoons ground cinnamon
Place the butter and sugar in the bowl of an electric mixer and beat for 10–12 minutes or until pale and creamy. Scrape down the sides of the bowl. Add the golden syrup, flour, bicarbonate of soda, ginger and cinnamon. Beat until a smooth dough forms.

Roll out the dough between 2 sheets of non-stick baking paper to 4mm thick. Refrigerate for 30 minutes or until firm.
Preheat oven to 140°C (275°F). Line 3 baking trays with non-stick baking paper. For the gingerbread houses, download, print and use scissors to cut out the templates, see link below for template. For the people, tree and animals, use a variety of cookie cutters++. You can use the picture as a guide to make your own gingerbread family+++.
Place the gingerbread houses on the trays and bake for 35–50 minutes (depending on their size) or until golden. Bake the gingerbread shapes for 15–20 minutes or until golden. Allow to cool on the trays. Makes 20

+ If you can't find golden syrup, use 1 ⅓ cups(330 ml) pure maple syrup in its place.
++Cookie cutters in various shapes and sizes are available to buy from homewares retailers, cake decorating stores or online.
+++If the dough feels too soft at any stage, you can refrigerate it for a few minutes. Wrap and freeze any leftover dough for up to 2 months.
This recipe is from Donna's new series donna hay christmas, exclusive to Disney+
Photography: Chris Court
C Laus
Molasses works amazingly well too