cheese plate with wild fig compote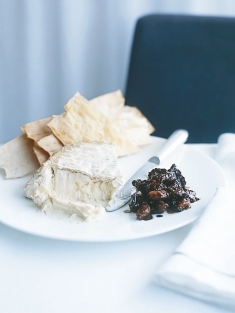 3⅓ cups dried wild figs, halved*

1 cup (250ml) balsamic vinegar

¾ cup (185ml) water

¾ cup (165g) caster (superfine) sugar

cheese, such as brie or camembert and crackers, to serve

Place the fig, vinegar, water and sugar in a saucepan over medium heat and stir until the sugar is dissolved. Bring to the boil and simmer for 15 minutes or until syrupy and the fig is tender. Remove from the heat and allow to cool. Serve with cheese and crackers. Makes 2½ cups.

* Wild figs are available from greengrocers or delicatessens. Alternatively, you can used dried figs.
There are no comments for this entry yet.