roast tomato soup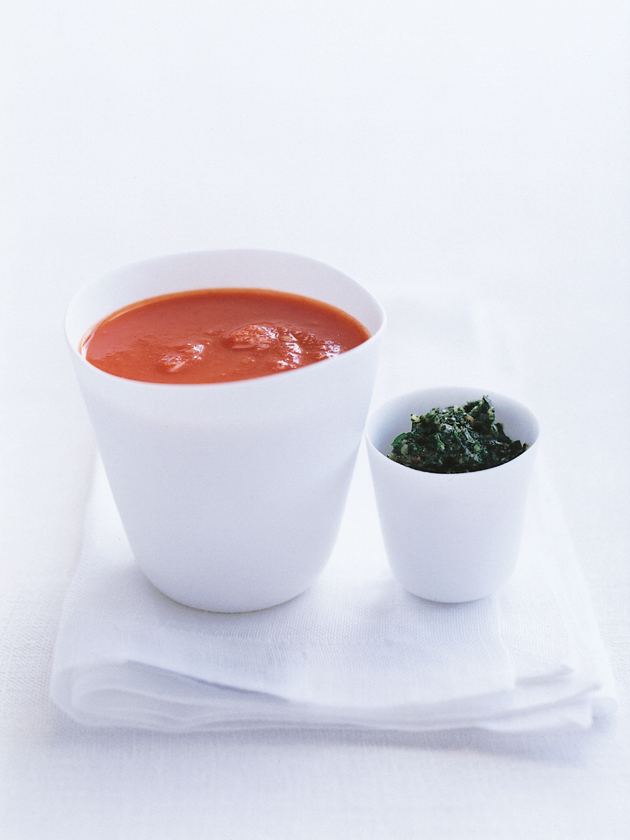 12 large vine-ripened tomatoes (2kg), halved
1 head garlic, whole and unpeeled
2 tablespoons olive oil
sea salt and cracked black pepper
3 cups (750ml) chicken stock
2–3 teaspoons sugar

Preheat the oven to 180°C (350°F). Place the tomatoes and garlic on two baking trays lined with non-stick baking paper. Drizzle with olive oil and sprinkle with salt and pepper. Bake for 40 minutes or until very soft. Allow to cool slightly.

Squeeze the garlic flesh from its skin and process in a blender with the tomatoes and any juice from the baking trays in two batches until smooth. Cook the tomato mixture, stock and sugar in a saucepan over medium heat for 6 minutes, stirring occasionally. To serve, ladle into bowls or mugs and top with a spoonful of mint pesto (see below). Serves 4–6.

Mint pesto: Roughly chop 1 cup mint leaves, ½ cup flat-leaf parsley, ¼ cup toasted pine nuts and ¼ cup finely grated parmesan cheese in a blender or food processor. Add ¼ cup (60ml) olive oil and blend until combined. Serve spoonfuls on top of tomato, lentil or vegetable soups.
Karen Bobroff
Delicious and really easy to make
Lee Pirrello
Never ever been a fan of tomato soup. This is a game changer! My absolute fave and I now make this at least once a fortnight! Easy, delicious and bang full of flavour