mocha self-saucing pudding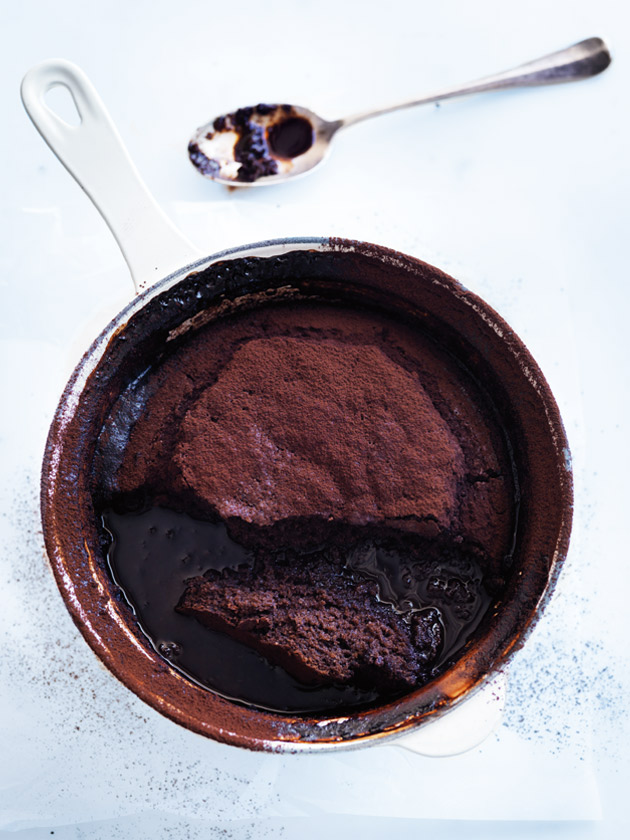 1 cup (250ml) milk

70g unsalted butter, melted

2 eggs

2 teaspoons vanilla extract

1 cup (150g) plain flour, sifted

3 teaspoons baking powder, sifted

⅓ cup (35g) Dutch cocoa, sifted

½ cup (60g) almond meal

½ cup (90g) brown sugar

1 cup (175g) brown sugar, extra

2 tablespoons Dutch cocoa, extra

2 tablespoons strong instant coffee

2 cups (500ml) water

Dutch cocoa, extra, for dusting

Preheat oven to 180°C. Place the milk, butter, eggs and vanilla in a large bowl and whisk to combine. Add the flour, baking powder, cocoa, almond meal and sugar and whisk to combine. Place the mixture in a 2-litre-capacity baking dish and set aside.

Place the extra sugar, cocoa, the coffee and water in a small saucepan over medium heat. Stir until the sugar and coffee dissolves and bring to the boil. Remove from the heat and gently pour over the pudding mixture.

Bake for 20–25 minutes or until firm to touch. Allow to stand for 10 minutes and dust with cocoa to serve. Serves 4–6.

+ When pouring the liquid over the pudding mixture, pour it slowly over the back of a spoon so that it lands gently.
+ Before your puddings go into the oven, place them on a baking tray to catch any spills.
+ Once cooked, allow the puddings to stand at room temperature for a few minutes, so they cool a little and the sauce has a chance to thicken slightly.
+ You can use an ovenproof saucepan, deep-sided frying pan or cake tin to bake your pudding in.
donna hay team
Hi Natalie, We have not tested the recipe like this but believe it will be ok to use 1 shot of espresso coffee. Let us know how you go.
Natalie Burge
I made this once years ago and was wondering if it's possible to substitute instant coffee for an espresso shot or two.