chicken and sage sausage rolls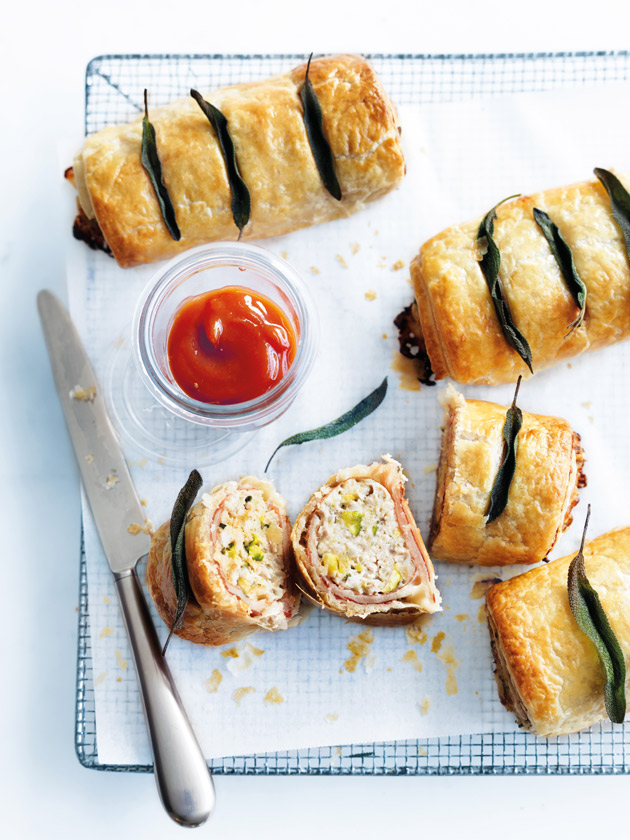 1 tablespoon extra virgin olive oil
1 small brown onion, chopped
3 cloves garlic, crushed
2 tablespoons chopped sage leaves+
1½ cups (100g) fresh breadcrumbs
¼ cup (60ml) milk
500g chicken mince
⅓ cup (45g) pistachios, roughly chopped
1 cup (110g) grated provolone
2 tablespoon Dijon mustard
2 eggs
sea salt and cracked black pepper
2 sheets frozen puff pastry, thawed
8 slices prosciutto

Preheat oven to 200°C. Heat the oil in a medium non-stick frying pan over medium heat. Add the onion, garlic and sage and cook for 4–5 minutes or until golden. Transfer to a large bowl, add the breadcrumbs and milk and stir to combine. Add the mince, pistachio, cheese, mustard, 1 egg, salt and pepper and stir until combined. Line each pastry sheet with 4 slices of prosciutto and cut in half.
Divide the mince mixture between the pastry sheets, placing it along one edge, and roll to enclose. Cut in half and place, seam-side down, on large baking trays lined with non-stick baking paper.
Lightly whisk the remaining egg and brush the rolls. Bake for 20–25 minutes or until golden and cooked through. Makes 8.

Alison Baldwin
These are so delicicious, devoured minutes after taking from the oven.