simple bread loaf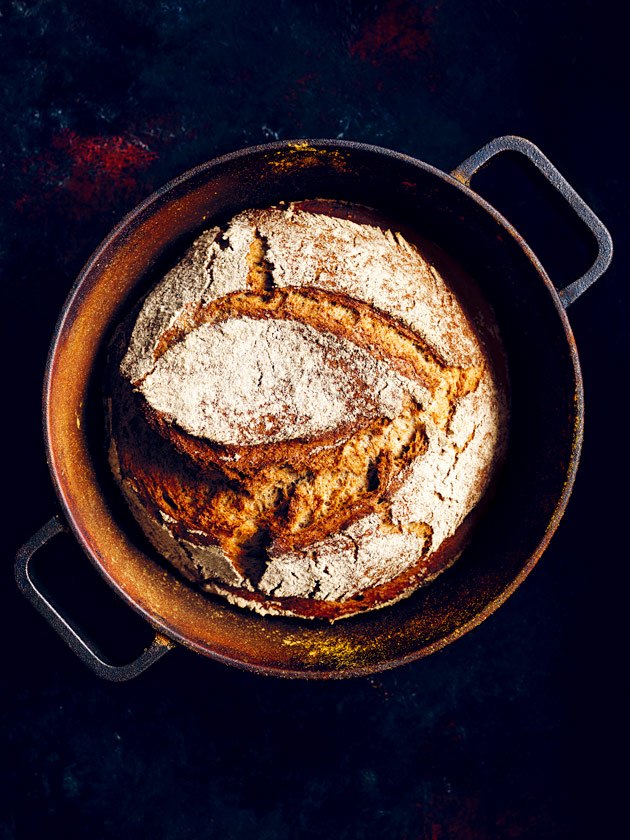 2

½

cups (625ml) warm water

1

tablespoon honey

1

teaspoon dry yeast

7

cups (910g) plain flour or white spelt flour+

3

teaspoons sea salt flakes
½ cup (125ml) extra virgin olive oil
Place the water, honey and yeast in a medium jug, mix to combine and set aside.
Place the flour and salt in the bowl of an electric mixer with the dough hook attached. Kneading on low speed, gradually add the yeast mixture and the oil. Knead for 10 minutes or until the dough is smooth.
Transfer the dough to a large lightly greased bowl and cover with plastic wrap. Set aside in a warm place for 1 hour 30 minutes – 2 hours or until the dough has doubled in size.
Preheat oven to 250°C (480°F). Heat a medium ovenproof heavy-based saucepan and tight-fitting lid in the oven for 30 minutes.
Lightly dust the hot pan with flour. Lightly dust a clean surface with flour and turn the dough out. Shape into a round and, using floured hands, carefully place the dough into the saucepan. Dust with flour and, using a small sharp knife, score the top of the dough. Cover with the lid and bake for 30 minutes.
Reduce the oven temperature to 220°C (425°F). Uncover and bake the loaf for a further 20 minutes or until golden and the bread sounds hollow when tapped. Makes 1
TIPS + TRICKS
+ Spelt flour lends breads and baked goods a lovely earthy nuttiness and golden colour. It's not gluten free, but some do find it easier to tolerate than wheat flour.
Photography: William Meppem
Jenny Hargreaves
Great recipe for Calzones! Would be good for pizza too!
donna hay team
Hi Anna, So glad to hear you love this recipe! We haven't tested the recipe like this, but would recommend starting the cooking time at 30 minutes with the lid on, and once you take the lid off, see if you feel the bread needs an extra 5-10 minutes more. The bread will be done when it sounds hollow when you knock on the bottom of the bread. Happy baking!
Anna Turner
Hi,
I've made this recipe a few times and it's been great. If I half the recipe (freeze half the dough for later) do I half the cooking time?
donna hay team
Hi Anthony,
If you do not have a heavy ovenproof saucepan with a lid, you could always make the loaf into a flatbread - see our rustic olive, onion and rosemary flatbread recipe variation below for cooking times. Enjoy! dh team
Anthony Butt
Hello Donna and team,
With this recipe for the bread, what would you do if you do not have a heavy ovenproof saucepan with lid.
Can you shape the loaf into a cob and bake? if so how long please?
Many thanks
Anthony