classic prawn roll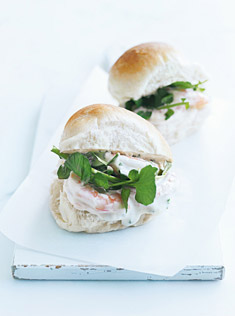 ½ cup (150g) whole-egg mayonnaise

1 ½ tablespoon lemon juice

1 clove garlic, crushed

1 teaspoon Dijon mustard

1 tablespoon chopped chives

2-3 drops Tabasco, optional

sea salt and cracked black pepper

8 cooked medium prawns (shrimp), peeled

4 soft white bread rolls

watercress sprigs, to serve

Place the mayonnaise, lemon juice, garlic, mustard, chives, Tabasco, salt and pepper in a bowl and stir to combine. Add the prawns and toss to coat.
Split the rolls, fill with the prawn mixture and top with watercress sprigs to serve. Serves 2.

There are no comments for this entry yet.