rainbow layer cake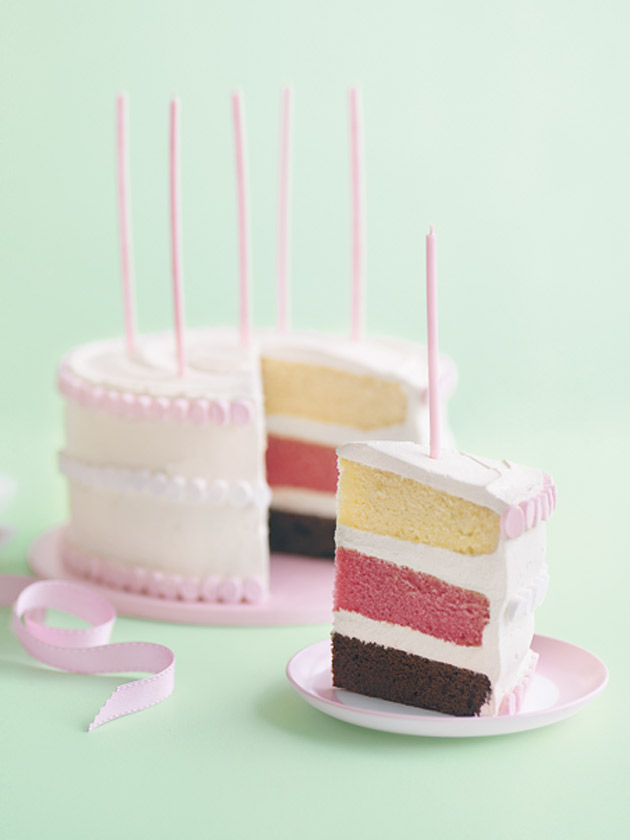 1 x quantity basic vanilla cake
(see link to recipe in step 1)

¼ teaspoon pink food colouring

2 tablespoons cocoa, sifted

2 x quantities basic vanilla butter icing (see link to recipe in step 3)

mini marshmallows, halved, to decorate

Preheat oven to 160ºC (325ºF). Make the basic vanilla cake. Divide the mixture into 3 equal portions. Set aside 1 portion. Place the second portion in a bowl with the pink food colouring and stir to combine. In another bowl, mix to combine the third portion with the cocoa.
Pour into 3 lightly greased and lined 20cm round cake tins and bake for 40–50 minutes or until cooked when tested with a skewer. Cool in tins for 5 minutes before turning onto a wire rack to cool completely.
To assemble, starting with the chocolate layer, spread a quarter of the butter icing over the cake using a palette knife. Top with the pink layer of cake, ice with another quarter of the icing and finish with the vanilla layer, using the remaining icing to ice the whole cake.
Decorate the sides of the cake with the marshmallows.
There are no comments for this entry yet.