banana, raspberry and coconut bread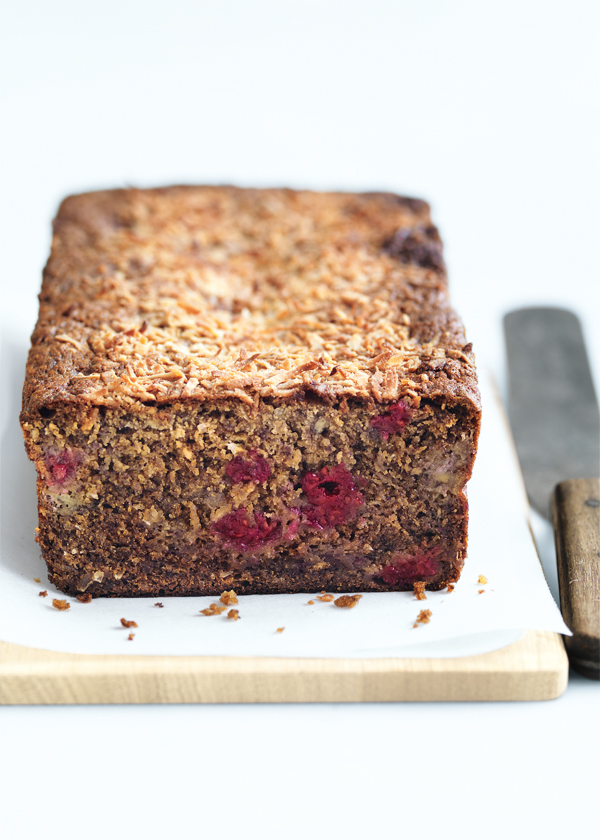 125g butter, softened
1 cup (175g) brown sugar
1 teaspoon vanilla extract
2 eggs
2 cups mashed banana
1 cup (160g) frozen raspberries
½ cup (25g) sweetened coconut flakes, plus extra, for sprinkling
1¾ cups (255g) plain (all-purpose) flour, sifted
1 teaspoon baking powder, sifted
1 teaspoon bicarbonate of (baking) soda
1 teaspoon ground cinnamon
⅓ cup (115g) golden syrup

Preheat oven to 160°C (325°F). Place the butter, sugar and vanilla in an electric mixer and beat for 8–10 minutes or until pale and creamy. Scrape down the sides of the bowl.

Gradually add the eggs and beat well to combine. Add the banana, raspberries, coconut, flour, baking powder, bicarbonate of soda, cinnamon and golden syrup and stir to combine.
Spoon the mixture into a 26cm x 11cm (2.5 litre-capacity) lightly greased loaf tin lined with baking paper and sprinkle with the extra coconut flakes. Bake for 80–85 minutes or until cooked when tested with a skewer.

Cool in the tin for 20 minutes before turning out onto a wire rack to cool completely. Serves 6–8.
Lynn Manning
Delicious. Not really a fan of banana bread, but I had bananas to use up. Glad I found this recipe as it was so Good. I used dark brown sugar, as that's all I had, otherwise followed the recipe and It Worked
Ange Atkins
This was absolutely amazing !!!
I have always struggled making a good banana bread but with these extra yummy ingredients added to this it's a winner winner! Thanks for the recipe x
donna hay team
Hi Shelly, we haven't tested this so we can't guarantee it will turn out the same. Let us know how you go! The DH Team.
Shelly Sarkar
Can I use whole meal flour and olive oil instead?