the perfect pavlova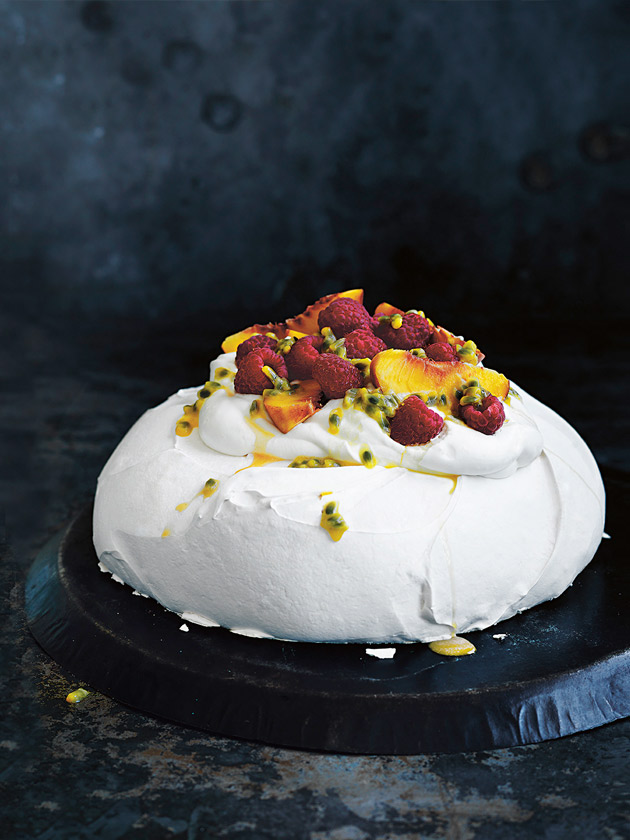 1 x quantity no-fail meringue mixture (see recipe link under method)

1½ cups (375ml) single (pouring) cream*, whipped

raspberries, passionfruit pulp and sliced peaches, to serve

Preheat oven to 150°C (300°F). Using a pencil, draw a 20cm circle on a sheet of non-stick baking paper. Place the baking paper, pencil-side down, on a lightly greased baking tray+. Spoon the meringue mixture into the circle to make a neat round. Reduce the oven temperature to 120°C (250°F) and 
bake for 1 hour. Allow to cool completely in the closed oven++.

Place the pavlova on a cake stand or plate and top with the whipped cream, raspberries, passionfruit and peach to serve. Serves 8–10.
+ Turn the backing paper do it's pencil-side down on the tray — no marks will transfer onto the meringue.
++ Allow the meringue to cool gradually in the oven with the door closed — preferably overnight.
donna hay team
Hi Stacey, all of our recipes are created and tested in fan forced ovens. Happy baking!
Stacey Hopkins
Hello
Can you please tell me if this recipe is to be cooked in a fan forced oven or just the bottom and top heating elements on ??
It' my first Pav and I am nervous hahaha
Anne Harrison
The proportion of cornflour mixed with vinegar did not work for me - I tried it twice & turned into a solid mess both times - so I added the vinegar and cornflour separately to the mixture as it was whisking which resulted in a perfect meringue