tiramisu cheat's soft-serve sandwiches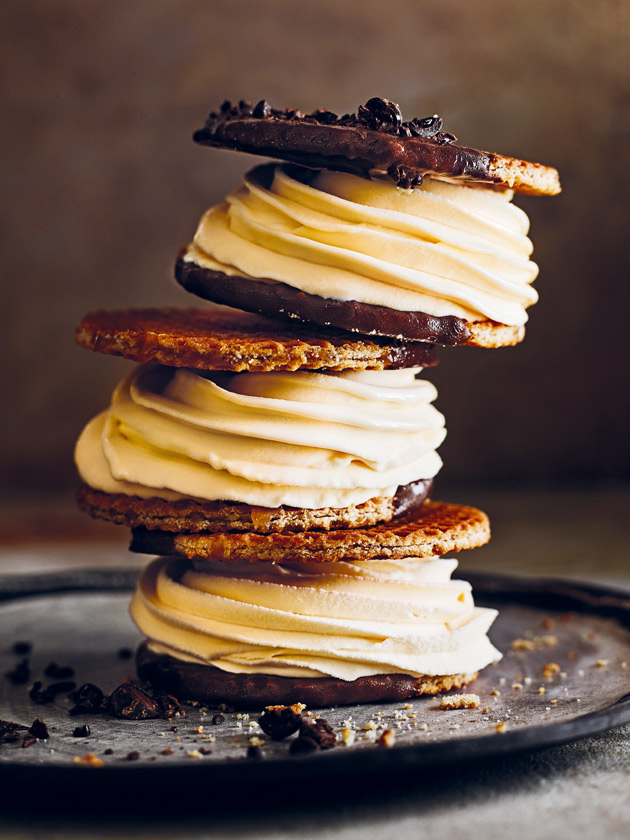 100g dark chocolate, melted

12 store-bought stroopwafel (syrup wafer) biscuits+

2 tablespoons store-bought chocolate-coated coffee beans, crushed

¾ cup (180g) mascarpone

¾ cup (180ml) single (pouring) cream

2 litres store-bought vanilla ice-cream, softened

Line a large tray with non-stick baking paper. Place the chocolate in a small bowl. Dip 1 edge of each biscuit into the chocolate and place on the tray. Sprinkle the chocolate with the crushed coffee beans and refrigerate until set.

Place the mascarpone and cream in the bowl of an electric mixer and beat on low speed for 1 minute or until well combined. Add the ice-cream and beat for 1 minute or until smooth. Spoon the mixture into a piping bag fitted with a 1.5cm star-shaped nozzle and freeze for 30 minutes or until just firm.
Pipe a swirl of ice-cream onto 1 of the biscuits and top with another biscuit. Repeat to make 6 ice-cream sandwiches. Serve immediately. Makes 6

+ Stroopwafels, or syrup wafers, are Dutch biscuits with 2 thin waffle layers and a caramel filling. Find them in the international aisle of supermarkets or at specialty grocers.
TIP
These soft-serve sandwiches can be made up to 1 day in advance. Keep them in an airtight container in the freezer until 5 minutes before you're ready to serve, giving them just enough time to soften.
There are no comments for this entry yet.