coconut cake with whipped coconut icing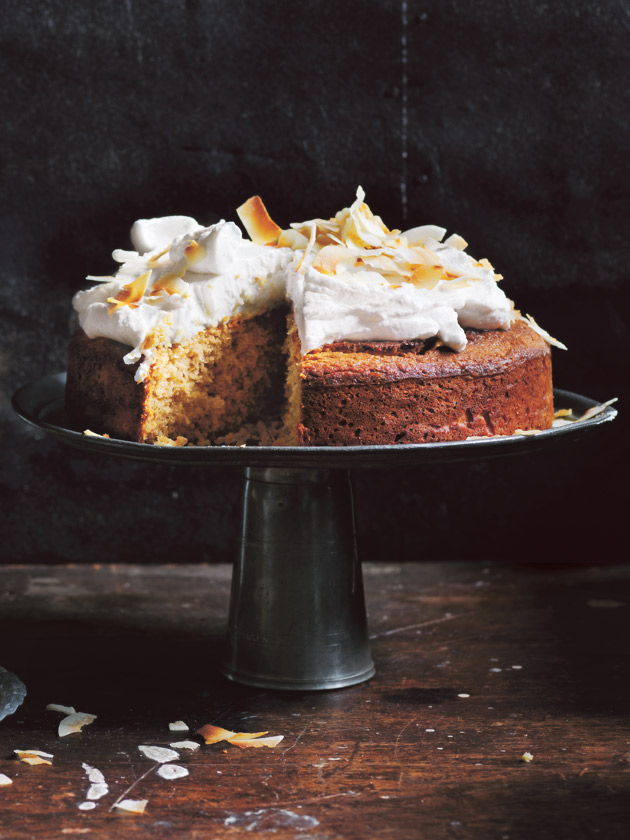 2 eggs

1⅓ cups (375g) natural Greek-style (thick) yoghurt

½ cup (125ml) melted coconut oil

2 teaspoons vanilla extract

2∕₃ cup (120g) rapadura sugar

1 cup (80g) desiccated coconut

2 teaspoons baking powder

1 cup (160g) buckwheat flour

whipped coconut icing
400ml can coconut cream, refrigerated overnight+

1 tablespoon raw caster sugar

⅓ cup (15g) toasted flaked coconut

Preheat oven to 160°C (325°F). Place the eggs, yoghurt, coconut oil and vanilla in a large bowl. Add the sugar, desiccated coconut, baking powder and flour and stir well to combine. Spoon into a lightly greased 20cm round springform cake tin lined with non-stick baking paper and smooth the top.
Cook for 40 minutes or until cooked when tested with a skewer. Set aside to cool slightly before transferring to a wire rack to cool completely.
To make the whipped coconut icing, place the coconut cream and caster sugar in the bowl of an electric mixer and whisk for 1–2 minutes or until soft peaks form.
Top the cake with icing and toasted coconut to serve. Serves 8–10.

+ Refrigerating the coconut cream for 6 hours or overnight hardens the liquid so it can be whipped. Do not shake before using.
Kylie Hetherington
We have a lot of staff with allergies and this cake was safe for all to eat. It was moist and surprisingly not to overpowering in the coconut flavour. It was simple to make and enjoyed by all.