cherry tomato, olive and
goat's cheese pasta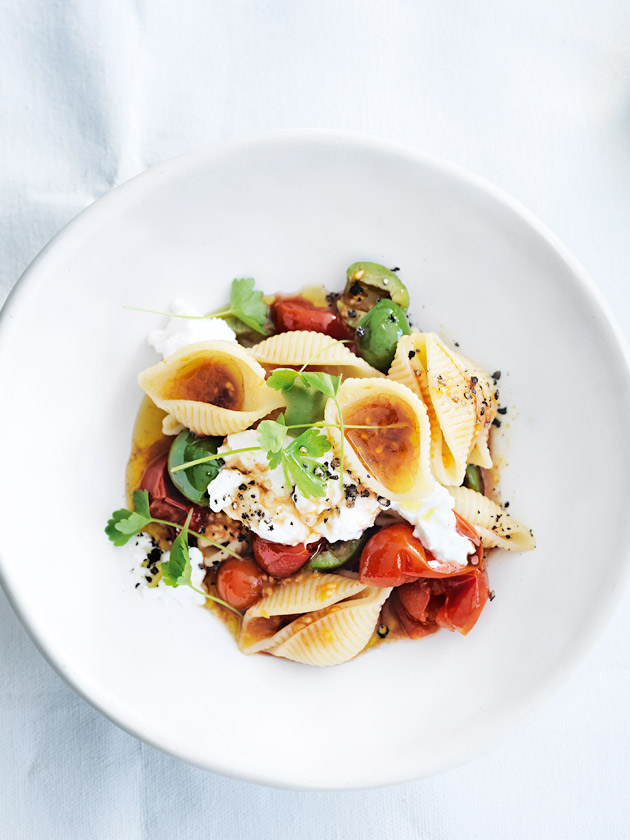 750g cherry tomatoes
360g pitted large green (Sicilian) olives, torn
2 tablespoons brown sugar
¼ cup (60ml) red wine vinegar
1 tablespoon lemon-infused extra virgin olive oil, plus extra, for drizzling
500g conchiglie
200g goat's milk cottage cheese
baby (micro) flat-leaf parsley leaves, to serve

sea salt and cracked black pepper
Preheat oven to 220°C (425°F). Place the tomatoes, olives, sugar, vinegar and oil on a large lightly greased baking tray lined with non-stick baking paper and toss to combine. Roast for 10–12 minutes or until the tomatoes are just cooked and the olives are golden. Use a fork to lightly crush the tomatoes and set aside.
Cook the pasta in a large saucepan of salted boiling water according to packet instructions or until al dente. Drain, return the pasta to the pan over medium heat, add the tomato mixture and stir for 1–2 minutes or until well combined.
Divide the pasta between plates and top with the cheese and parsley. Drizzle with extra oil and sprinkle with salt and pepper to serve. Serves 4
TIPS AND TRICKS
+ Resembling little conch shells, this small shell pasta is very versatile, great with sauce, in salads or in soup.
Photography: William Meppem
donna hay team
Hi Angel, we have used dried pasta for this recipe. Hope that helps!
Angel Stevens
Hi! Is this 500g dried or fresh pasta? Thanks!