ABOUT DONNA
biography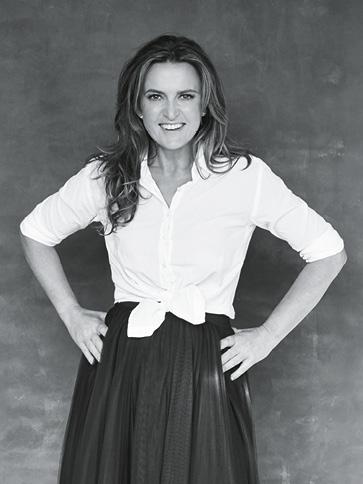 At the age of eight, Donna Hay skipped into a kitchen, picked up a mixing bowl and never looked back. Donna Hay is Australia's leading food editor and best-selling cookbook author. Her food, recipes and styling focus on basic ingredients that are simply prepared and beautifully photographed – hallmarks of her work which have set the benchmark for food publishing worldwide and inspired a whole new generation of cooks.
Donna's simple and style-driven approach is reflected in her 26 award-winning cookbooks. She has sold over six million copies worldwide, with the books translated into 10 languages and she was named one of the 'Magnificent Seven' cookbook authors at the international Gourmand Awards in January 2007.
Donna's career as a food writer and stylist began when she was 19. She was appointed food editor of marie claire when she was 25 and soon became food editor of marie claire lifestyle, too.
In 2001, she launched donna hay magazine, a highly acclaimed, top-selling bi-monthly food magazine with tremendous local success and far-reaching international appeal. With Donna as editor-in- chief, the magazine has more than 595,000 Australian readers each issue*, has subscribers in 82 countries around the world and is the highest-selling magazine on the App Store in Australia.
Donna completed her first TV series in 2011 – fast, fresh, simple – for Foxtel's LifeStyle Channel in Australia. The series screened in more than 17 countries worldwide. In December 2013, the one-hour special, a donna hay Christmas, was created exclusively for Foxtel, bringing to life Donna's no-fuss, chic approach to Christmas entertaining. She received an ASTRA award in 2012 for best new female personality.
In December 2011, Donna was appointed by Tourism Australia as the creative director for Oprah Winfrey's 'Welcome to Sydney' party, for her and the 300 audience members who travelled to Australia for the special series of shows. The segment, seen by more than 20 million people worldwide, included Donna's transformation of Sydney Harbour settings into stylish beach and country locations, plus fireworks that lit up the night's sky and Sydney Harbour Bridge – especially for Oprah.
In 2015, Donna made her first foray into the growing world of 'luxe health' content, releasing a special issue magazine called Fresh + Light, packed full of super foods and delicious recipes for a lighter approach to eating. After 60,000 copies sold out in less than two weeks, the title has become a quarterly fixture with Donna at the helm.
In November 2015, Donna was inducted into the Australia Magazine Awards Hall of Fame, recognised for her pioneering brand and contribution to the industry. Rather than resting on her laurels, Donna put the business up a gear. In May 2016, she returned to television with a brand new eight-part series exclusive to Foxtel, Basics to Brilliance. The accompanying book was released in September 2016. That same month, the magazine celebrated its 15th birthday with a hugely successful bumper issue. And on Boxing Day 2016, Donna fulfilled a lifelong personal ambition and sailed as part of the crew on Beau Geste in the Sydney to Hobart Yacht Race.
Donna also has a popular weekly food column in the Sunday editions of News Corp newspapers around Australia, reaching over 2.5 million people each week. She is also a regular contributor to UK's leading lifestyle magazine, Living etc., and has a fortnightly column in The Sunday Times Magazine in the UK.
In addition to this, in early 2009, Donna launched the donna hay general store, which has grown into a booming online business, allowing food and style lovers all over the world to obtain Donna's products, beautiful homewares and special gift ideas at the click of a button.
Donna's successful homewares range was developed with Royal Doulton and has been available worldwide since 2011. This range includes classic dinnerware and collections for tea, cake and special occasions, plus kitchenware and tools for cooking and baking.
The Donna Hay Home Baking Mix range, featuring a molten chocolate chunk brownie, flourless chocolate cake and wholesome banana bread, is made with all natural ingredients, for a truly homemade taste. The range is well loved and stocked in major supermarkets across Australia. The brownie currently holds the number one spot in baking mix sales across Coles and Woolworths supermarkets.
Donna is a working mum of two beautiful boys, Tom and Angus, and resides in Sydney, Australia.