ABOUT DONNA
what we do
DONNA HAY HQ
DONNA HAY HQ
The donna hay headquarters is abuzz with activity on any day of the week. In the kitchen there's always something delicious baking in the oven or bubbling on the stovetop, filling the studio and office with mouth-watering aromas. Our food stylists and photographers bustle about capturing the delicious creations while, just down the hall, the recipes are coming to life in the pages of donna hay magazine, Fresh + Light and in Donna's cookbooks. It's also here that Donna's vision for her beautiful homewares and food ranges are fine-tuned before the products find their way onto store shelves.
PUBLISHING
PUBLISHING
Every donna hay recipe is tested and photographed for Donna's cookbooks, weekly national newspaper columns, donna hay magazine and donna hay fresh + light at the studio. At donna hay, we're firm believers that fresh is always best, so every dish is styled and photographed hot from the kitchen – we don't use any sneaky tricks to make our recipes look beautiful, it's all down to natural good looks. All donna hay publications are designed and written in-house by our editorial team in close collaboration with the kitchen team. And, if we're lucky, that collaboration will sometimes happen over a delicious lunch cooked by Donna!
ONLINE STORE
ONLINE STORE
Taking inspiration from her own vintage collection as well as practical kitchen tools essential for any home cook, Donna's own eponymous range of kitchen and homewares are available for purchase online at donnhay.com. Spanning everything from essential cookware and handy kitchen tools, to delicate cupcake papers and beautiful napery, the range has been designed by Donna with classic, everyday style in mind. You'll also find Donna's collaboration with Royal Doulton, as well as her delicious range of bake-at-home mixes from rich brownies to a decadent flourless chocolate cake.
ROYAL DOULTON
ROYAL DOULTON
Donna's creative collaboration with Royal Doulton combines her casually elegant signature style with the timeless quality of one of the most trusted and loved homeware brands. The exclusive range launched in early 2011 and is an example of Donna's passion for all things simple, beautiful and functional. Fit for both everyday and special occasions, you can find modern dinnerware, fine glassware, as well as her brand new cutlery range and beautiful cake stands.
Click here to shop the range of donna hay for Royal Doulton products.
BAKING AT HOME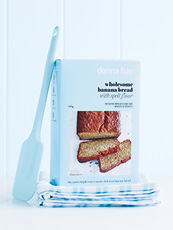 BAKING AT HOME
Donna's delicious range of bake-at-home mixes are made exactly to Donna's own recipes using the most premium ingredients. From rich brownies to a decadent flourless chocolate cake, it's just like baking from scratch, only easier. You can buy the range online at donnahay.com (shipping within Australia, only) or at major supermarkets and quality grocery stores.
TELEVISION + MEDIA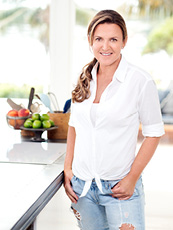 TELEVISION + MEDIA
Donna has been a regular face on Foxtel's LifeStyle Food channel, with her first television series, fast, fresh, simple, airing in 2011, and her popular Christmas special to guide you through the festive season. Her latest series, Basics to Brilliance, aired on LifeStyle Food in May, and takes simple, classic recipes and turns them into something truly impressive.
BOOKS & INTERNATIONAL EDITIONS
BOOKS & INTERNATIONAL EDITIONS
With more than 24 cookbooks and over 6 million copies sold worldwide, Donna is one of Australia's best-selling authors. You can find Donna Hay cookbooks translated in nine different languages and in over 20 different countries, or buy now at our online store.
DIGITAL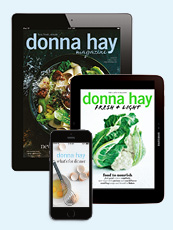 DIGITAL
Enjoy the digital edition of donna hay magazine and donna hay fresh + light on your desktop, laptop, tablet or smartphone, with versions for ios, android and zinio. Featuring exclusive content and clever cookmodes, you'll receive instant access to the digital edition with a discounted subscription!

Donna's what's for dinner app for ios features recipes, meal planning and a handy shopping list to help plan your week.