candied almond ice-creams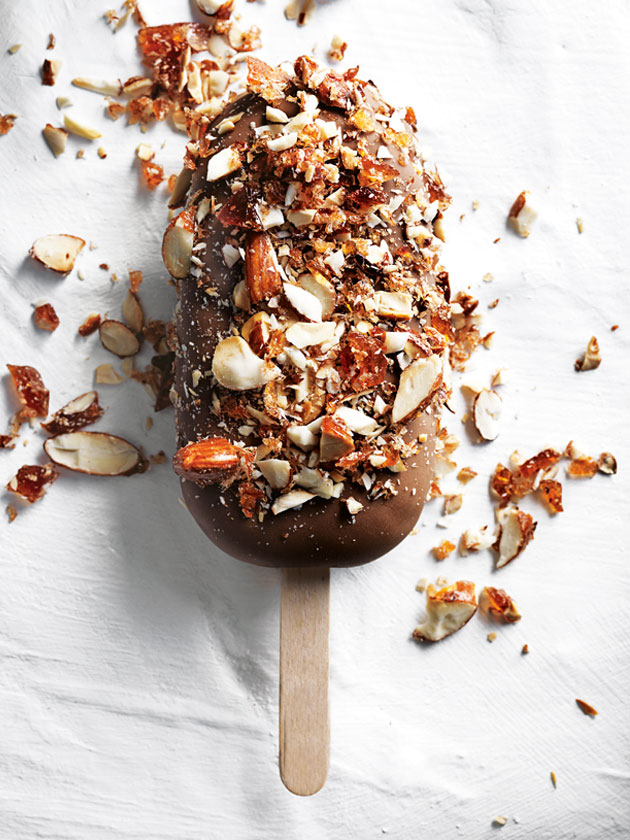 ½ cup (110g) caster (superfine) sugar

¼ cup (60ml) water

¾ cup (120g) almonds

625ml (440g) store-bought vanilla ice-cream, roughly chopped+

400g milk chocolate, melted

2 tablespoons vegetable oil

Line a baking tray with non-stick baking paper. Place the sugar and water in a medium saucepan over low heat and cook, stirring, until the sugar has dissolved. Increase the heat to high, add the almonds and cook, stirring occasionally, for 6–8 minutes or until golden. Pour onto the tray and allow to set at room temperature. Roughly chop and set aside.

Place the ice-cream in the bowl of an electric mixer and beat on low speed until softened. Add ⅓ cup (60g) of the chopped candied almonds and mix to combine. Spoon into 6 x ⅓-cup-capacity (80ml) popsicle moulds, insert the sticks and freeze for 8 hours or overnight.

Line a large tray with non-stick baking paper. Run the moulds under hot water for 10 seconds to help remove the popsicles. Place on the tray and freeze until needed.

Place the chocolate and oil in a medium bowl and mix until smooth. Allow to cool to room temperature. Working quickly, dip each popsicle in the chocolate mixture and return to the tray. Sprinkle immediately with the remaining candied almonds to serve, or freeze until ready to serve. Makes 6

+ Because all store-bought ice-creams vary, for this recipe we've given a volume and weight suggestion. Use the volume measurement to help you purchase enough ice-cream at the supermarket. At home, weigh the ice-cream before you begin and you'll end up with 6 perfectly sized popsicles.
TIP:
+ Keep these ice-creams in the freezer for up to 2 days.
Photography: William Meppem
There are no comments for this entry yet.