chicken, sage and smoked mozzarella cannelloni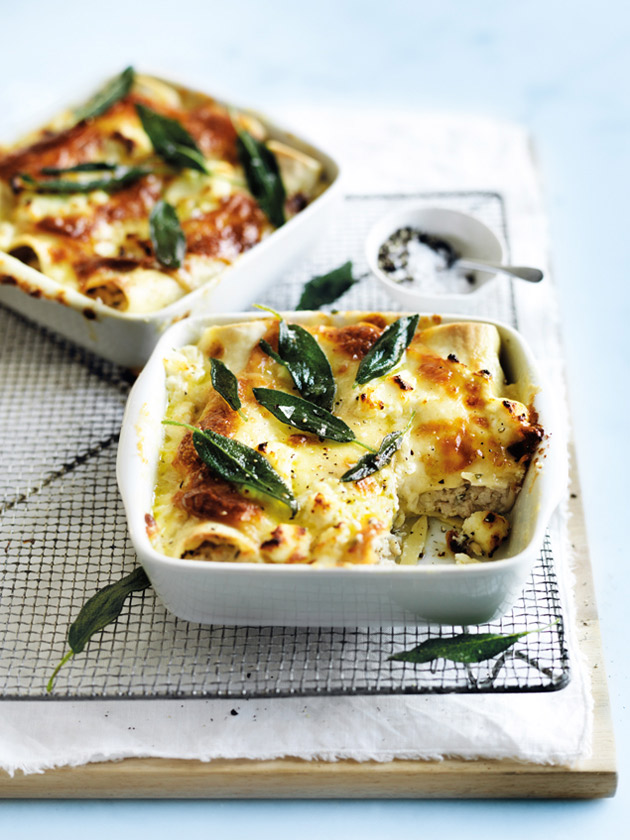 1 tablespoon extra virgin olive oil

1 onion, finely chopped

2 cloves garlic, crushed

500g chicken mince

1 tablespoon chopped sage leaves

2 cups (480g) fresh ricotta

¾ cup (85g) grated smoked mozzarella

sea salt and cracked black pepper

375g fresh lasagne sheets, cut to 13cm x 12 cm rectangles

1 cup (250ml) chicken stock

½ cup (125ml) single (pouring) cream

240g smoked mozzarella, extra, sliced

½ cup sage leaves, extra

Preheat oven to 200°C. Heat the oil in a large non-stick frying pan over medium heat. Add the onion and garlic and cook, stirring, for 6–7 minutes or until soft. Add the mince and cook, for 8–10 minutes or until golden. Set aside to cool. Add the sage, half the ricotta, grated mozzarella, salt and pepper and mix to combine.
Place ¼ cup of the mixture along the edge of each lasagne sheet and roll to enclose. Place the cannelloni in 4 x 2-cup-capacity (500ml) ovenproof dishes++. Place the stock and cream in a jug, mix to combine and pour on top.
Top with sliced mozzarella and remaining ricotta. Cook for 20 minutes, top with sage and cook for a further 5 minutes or until golden. Serves 4.
+ Smoked mozzarella is available from selected delicatessens and cheese stores.
++ Place the cannelloni seam-side down in your ovenproof dishes to prevent the pasta from opening as it cooks.
Micaela Cruikshank
This recipe was delicious! I used oven-ready cannelloni and stuffed them using a pastry piping bag. I also used smoked salt instead of regular salt. I will definitely be making this again.