basic chocolate fudge cake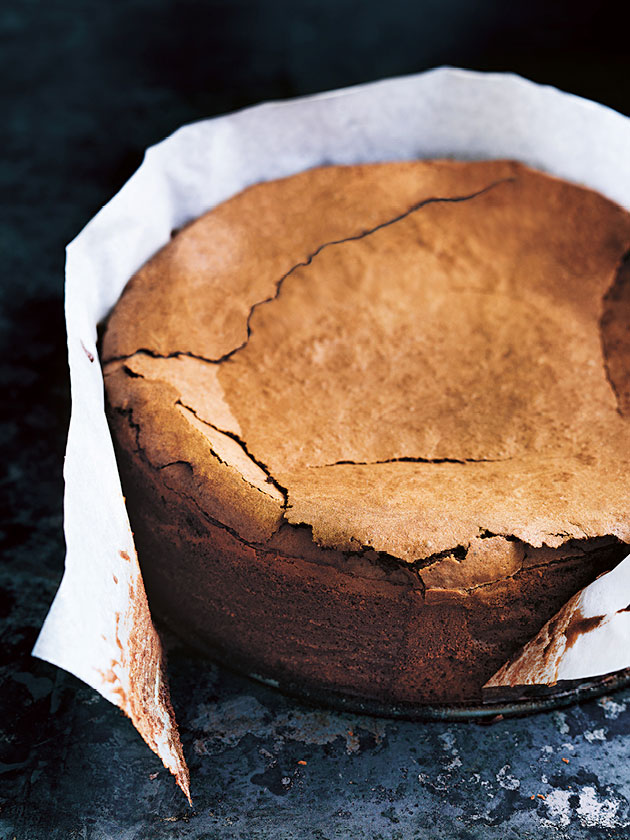 250g unsalted butter, chopped

300g dark (70%) chocolate, chopped

2 tablespoons Dutch cocoa, sifted

½ cup (125ml) milk

6 eggs

1 cup (220g) caster (superfine) sugar

½ cup (85g) brown sugar

1 cup (150g) plain (all-purpose) flour

Place the butter and chocolate in a medium saucepan over low heat and stir until melted and smooth. Add the cocoa and milk and stir to combine. Set aside to cool slightly.

Place the eggs and both the sugars in the bowl of an electric mixer and whisk on high speed for 12–15 minutes or until pale, thick and creamy.
Add the chocolate mixture to the egg mixture and whisk, scraping down the sides of the bowl, until just combined. Reduce the speed to low, add the flour and whisk until just combined.
Preheat oven to 160°C (325°F).
Lightly grease a 22cm round springform cake tin and line with non-stick baking paper.
Pour the cake mixture into the tin and bake for 1 hour – 1 hour 10 minutes or until set+. Allow to cool completely in the tin.
Remove the cake from the tin to serve. Serves 8–10
+ The cake is ready when it feels set to the touch. If tested, a wooden skewer will not come out clean – the cake will set with a fudgy centre as it cools.

donna hay team
Hi Brenda, all o our recipes are created and tested in a fan-forced oven. Happy baking!
brenda monroy
Do you bake the cake with fan forced oven or without? It would be nice if you can specify this on your recipes please. Usually I always use the fan.
Thank you!
Belinda Louw
Hi Donna,
I baked this for my family tonight and it was a hit!! It was delicious, not too sweet but oh so lovely! Not one slice left.. thank you
Kai Yeen Woo
Made this twice and turned out great! It browned too fast in my oven tho, so I placed a loose foil so that it does not burn.
Brendan Marcello
Hi Donna,
I baked this once and came out fantastic. The middle did seem a little too 'gooey'. I took it out as the top was nice, firm and surfaced cracked like yours, but not sure if I should have persisted a little longer. Will try it again this coming weekend.